Nearly four years away from the next World Cup, it's difficult to approach tomorrow's U.S. Men's National Team friendly with our usual level of scrutiny. Who's fighting for starting spots? Which players need a big camp? What will this tell us about the U.S.'s place in the world? We're clearly not above those questions, but it's important to remember: Four years from now, Wednesday's game against the Czech Republic will be pretty irrelevant.
If there's any time we should sit back and just enjoy a game, tomorrow's that time. And given some of the names brought into camp, there'll be plenty of reasons to look beyond the results, take in the return, and wait for the debates to evolve. From new kids to old kids, returning stars to impending battles, Wednesday's showing against the Czech republic will seed more than a few discussions going forward.
Here's what to look for tomorrow in Prague: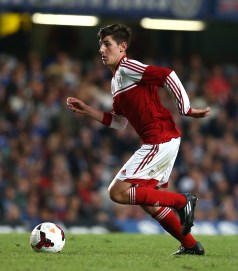 1. New kids in Casa Klinsmann
Emerson Hyndman (right) has been drawing rave reviews. Like fellow 18-year-old Rubio Rubin, the Fulham midfielder is in his first senior camp, competing to make his full international debut. Add in goalkeeper Cody Cropper, fullback Greg Garza, and attackers Joe Gyau and Jordan Morris, and there are six players hoping to win their first cap – the kind of squad you rarely see later in the cycle.
Add in Bobby Wood and Alfredo Morales (one cap, each) and you have a series of players looking to make new impressions on Jurgen Klinsmann. If history is any indication, only a few of them will play significant parts by the end of the cycle. But for those few, tomorrow's match starts a new journey, one that will allow fans to mark the day a new star broke through with the national team.
2. Old kids solidifying roles
In Brazil, talents like John Brooks, Julian Green, and (to a lesser extent) Mix Diskerud were part of youthful contingent gaining experience for better days. On Wednesday, those better days begin. Each player will be expected to make big contributions this cycle, going from backups' roles to performers who can compete for starting jobs. By the time the U.S leaves for Russia 2018, each will be in their prime, representing the next generation of American talent.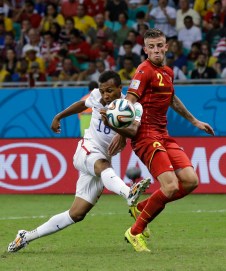 Tomorrow's unlikley to produce a major breakthrough, but with each appearance over the next four years, the underlying theme should be the same: Progress. As their games mature and older talents start to fade out, Brooks, Green (right), and Diskerud (among others) will have to form the team's new core. Particularly with so many veterans left off this squad, Prague presents a great opportunity to flash that potential.
3. Fabian and Jozy, back on the field
Fabian Johnson was one of the U.S.'s best players at this summer's World Cup, but like Jozy Altidore, his tournament ended too soon. Muscle injuries meant both players were on the sidelines by the time Belgium sent the U.S. home, with Altidore's tournament ending after 20 minutes against Ghana.
Altidore's drawn plenty of criticism for his play at Sunderland, but for the U.S., he's a special talent. Only 24 and already sixth on the team's all-time goal scoring list, Altidore has the poise to function as a focal point, something that will come in handy with Clint Dempsey back in Seattle. His 23 international goals are more than the rest of the camp's players combined, with his 71 caps more than doubling the squad's next-highest total (Alejandro Bedoya, 32). Still only 24, Altidore has long been a fixture in the squad, with his track record for the U.S. rendering proving club form need not dictate international results.
Fabian Johnson doesn't have the wealth of international experience, but after proving himself indispensable over three years with the team, the Borussia Mönchengladbach man has established himself as one of the most talented widemen in U.S. history. Without a long record of hype and adulation, Johnson's place in fans' hearts may not be as dear as the team's long-time talents, but the 26-year-old is still among the best players in Klinsmann's pool. There's a reason he's playing at a club level few American talents can realize.
On Wednesday, both players will be back on the field, supplying some first-team talent to a somewhat experimental squad.
4. And that goalkeeper battle
The extent to which this is an actual competition is debatable, but with Nick Rimando the only player pulled in from MLS, there's reason to think there's a battle for Tim Howard's vacated spot. Brad Guzan may not be gifted the number one's job. With each player scheduled to play 45 minutes in Prague, there may yet be a fight for time in goal.
Then again, like everything else surrounding Wednesday's game, it may be best to sit back and enjoy rather than draw firm conclusions. Who knows what's going on inside Jurgen Klinsmann's head? With Howard out of the picture, Guzan maybe the assumed number one, but too many times Klinsmann's shown what happens when we assume. Rimando may have been called in for lack of other options. He may also be given a fresh look as a potential starter.
Competition aside, Wednesday gives the two U.S. veterans some much deserved playing time – minutes they're starved of when Howard's in the fold. It will be nice to see each on the field.