Arsenal sealed an eleventh hour $26 million deal for Manchester United and England forward Danny Welbeck, which could turn out to be the best Deadline Day of them all.
Welbeck, 23, is proven at the highest level, is eager to prove doubters wrong and may have found a club which is a perfect fit for him.
[RELATED: Transfer window grades]
[RELATED: Every Deadline Day deal]
Here are four reasons why Welbeck should thrive at Arsenal and prove to be one of the best buys in recent transfer windows.
Gunners fans, get excited.
Gets to play in his preferred role as striker
Much has been made of Welbeck's poor goalscoring stats over the past few seasons and I can see what you mean. Just one PL goal scored in 2012-13 saw Welbeck criticized but he was a key player out wide, while last season he netted 10 goals in 36 games and 12 times in 2011-12. Most of those seasons Welbeck has played second fiddle to Wayne Rooney and then Robin van Persie, but now he's getting the chance to be the main man up top for the Gunners. For England he has scored eight goals in 26 games, including a game-winner in a crucial Euro 2012 victory against Sweden and when he is allowed to play as the high man, balls played in behind for him to run onto suit his style perfectly. One thing's for sure, Welbeck is a handful if he's played in the correct role and let's not forget, United weren't too keen to let him go. The only reason they did so was because Radamel Falcao arrived on Deadline Day.
Fits in with Wenger's policy of buying young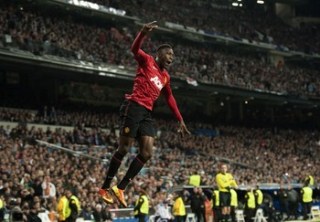 With the addition of Welbeck on a five-year deal, Arsene Wenger now has a core of England internationals at the Emirates Stadium. Just like he had with his famous team full of French internationals Emmanuel Petit, Nicholas Anelka, Patrick Vieira , Thierry Henry and Sylvain Wiltord back in the day, Wenger is hoping a group of players fighting for success for both club and country will knit the unit together. Right now, Welbeck, Theo Walcott, Jack Wilshere, Alex Oxlade-Chamberlain and Calum Chambers will all be key for England and Arsenal over the next four to five years. That bond they will develop could be crucial if Welbeck is to succeed, as he already knows and has played with a large chunk of his new teammates. That will be crucial as he settles in.
Speed, power, built for counter-attacks
We have already mentioned his pace, but the power Welbeck possesses is another huge attribute. I remember Welbeck terrorizing Real Madrid at the Santiago Bernabeu two seasons ago and scoring a stunner. Last season, also in the UEFA Champions League knockout stages, he tore Bayern Munich's defense to shreds at Old Trafford and his direct style of play links in with the way Walcott and Alexis Sanchez attack. All three spring forward in an instance and have incredible acceleration. If the Gunners can spring counter-attacks successfully this season, not many defenses will catch Welbeck, Walcott and co.
Something to prove
You could say this for most players moved on during Deadline Day, but Welbeck has to kick his career after earlier promise for United and England has diminished over the past 12 months. He has all the attributes to thrive in the PL and you don't rise through Manchester United's academy if you don't have the right mentality, that's for sure. He has to remember that this is a chance to become the main man for Arsenal and to solidify his place for England. With Raheem Sterling and Daniel Sturridge taking his place in the starting lineup for the Three Lions, now is the time he must stand up and make this fresh start count.