With the transfer window shut and Manchester United the biggest spenders on the globe, what next?
The Red Devils have brought in six players for upwards of $250 million in transfer fees alone. That's not including the astronomical wages dished out to superstars Angel Di Maria and Radamel Falcao, as their incredible outlay and faith in new manager Louis van Gaal was proven beyond all doubt after a summer of expensive acquisitions.
[RELATED: Transfer window grades]
[RELATED: Every Deadline Day deal]
Many are worried United didn't strengthen defensively and will be suspect at the back, but with the attacking options they now possess, the Red Devils could silence the doubters.
One man's arrival on Deadline Day was crucial: Radamel Falcao.
The Colombian striker sealed a season-long loan deal on Monday, which can be turned into a permanent deal for a reported $80 million at the end of the season, as the club have gone back to their attacking core to gain success. The message is clear: we will score more goals than you.
With Falcao on board — he has scored 155 goals in his last 200 games in European club soccer across three different leagues — the swashbuckling ways of Sir Alex Ferguson will return as the defense-first mantra deployed last season will go out of the window. Van Gaal finally has a group of players that are his and he will play to their strengths after assembling them. That overwhelming strength is: attack, attack, attack,
 [RELATED: How will Manchester United line up?]
In all, 17 players left Manchester United this summer as a long-awaited gutting of the squad took placer under LVG's stewardship. The message is clear: quality over quantity.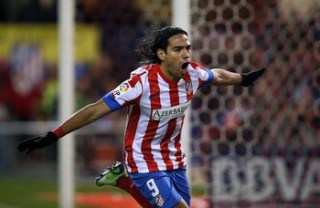 With no European soccer, or League Cup for that matter, to worry about in the next four months until January, the sole purpose is on one game a week in the Premier League. Getting back into the top four and securing UCL qualification is the aim and somehow (probably, the money) van Gaal has managed to persuade the likes of Di Maria and Falcao to join United's renaissance. Cash aside, his influence in these two signing should not be overlooked. Getting these big name players through the door was a big part of why van Gaal was brought in as manager after David Moyes struggled to sell the club to new players all of last season.
Falcao was the cherry on top of an expensively assembled ice cream sundae.
Without him, LVG's plan may have fallen flat on its face. With him, well, they may just have a chance. To start the season Rooney has looked out of sorts up top, van Persie is increasingly injury prone and both Javier Hernandez and Danny Welbeck left on Deadline Day. All of that leads the way for one man to shine. The man they call El Tigre.
With Di Maria, Adnan Januzaj, Juan Mata and Rooney supplying him the ammunition, Falcao's job in simple: stick the ball in the back of the net. Ruud van Nistleerooy's job was exactly the same at Old Trafford and he had the likes of Ryan Giggs and David Beckham feeding him crosses and through balls to finish. Falcao may not have those two around, but the attackers and wingers the Red Devils possess now will provide him with plenty of opportunities to score. If this plan comes off, United might not be hoping for just a top four finish this campaign. With no other distractions and a long-stretch ahead of just PL games, United could surprise everyone just like Liverpool did last season.
Falcao was the final piece of the jigsaw, as we can all start to judge van Gaal's Manchester United… now.