After Brad Guzan and Nick Rimando play 45 minutes each for the USA against the Czech Republic on Wednesday, it seems as though the battle to replace Tim Howard over the next 12 months isn't as straightforward as we thought.
Guzan was, and probably still is, the favorite to replace Howard long-term, but Rimando's second half display against the Czechs was nothing short of sensational and reminded us all of his sublime, if unconventional, talent.
[RELATED: Player ratings, USA vs. Czech Rep.]
Howard's year-long sabbatical has thrust this discussion into the limelight, as fans of U.S. soccer have long been clambering for Guzan to get more of a chance in goal. How many times have you heard "too bad for Guzan, he has Timmy Howard ahead of him" when dsicussing the USA's squad? The answer: a lot.
However, Rimando was never in that discussion. Until now.
The Real Salt Lake 'keeper has suffered from being labelled 'too short' and 'too small to be a goalkeeper' by many out there. But the man who won the Gold Cup with the USA in 2013, and has been pretty much ever present in Klinsmann's squad since he took over as boss, is now proving just how good he is. A stunning stat was also pulled out by Paul Carr from ESPN, as Rimando has never lost when playing for the U.S. The Californian 'keeper has a 13-0-2 record in his 15 caps for the Stars and Stripes. So, he's a bit of a lucky charm, too, if you believe in superstition.
[RELATED: USA beat Czech Republic 1-0 in Prague]
One of the biggest travesties in Major League Soccer is that Rimando has never won the Goalkeeper of the Year award during his 14-year stint in the league. For Miami Fusion, D.C. United and RSL, he has always been reliable and pulls out highlight-reel saves on a weekly basis. Just ask the locals who watch him at the Rio Tinto. They will not have been surprised by the three stunning stops Rimando made late in the game as the Czechs piled on the  pressure. Rimando made two sprawling saves (watch the highlight video above to see how good they were) with his feet and a few more crucial blocks to keep the home side at bay and persevere the USA's 1-0 lead. Rimando seems to be grasping this fight for the starters spot and is eager to push Guzan all the way for it.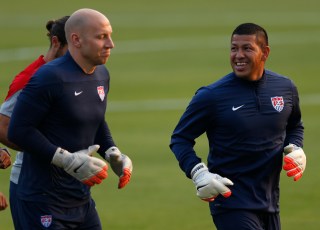 [RELATED: Howard's sabbatical provides chance for Guzan, Johnson, Hamid]
As for Guzan, his rise in the Premier League with Aston Villa has been a sensational story as the former Chivas USA stopper was released by the Villans in 2012. Without a club, Guzan was quickly signed back up by new Villa manager Paul Lambert and has been the number one ever since. He was Villa's Player of the Year last season and has already recorded two clean sheets from three matches this campaign.
Guzan didn't have much to do in his first half display against the Czech Republic on Wednesday, but we know his capabilities. He is still the favorite to replace Howard and many believe that at the age of 29, Guzan should be the preferred choice in goal for the U.S. when the 2018 World Cup rolls around. Rimando will be 39 during the World Cup in four years time, so perhaps that gives Guzan the edge too.
Between now and next year when Howard returns, Guzan has a real battle on his hands just to win the starting spot ahead of Rimando. We all know the U.S. is traditionally a powerhouse in producing goalkeepers, but the strength of it's second and three string 'keepers is something else when you consider MLSers Bill Hamid and Sean Johnson are also lined up behind Guzan and Rimando.
Whoever gets the nod to replace Howard permanently over the next 12 months, the U.S. won't have to worry about the goalkeeping position for quite some time.
That's a huge plus, even if it provides Klisnmann with one heck of a headache.