Two NBCSN games highlight another full slate of MLS soccer, one that kicks off with Friday night's broadcast from Los Angeles. With a marquee match also taking place Saturday in Utah and five total games on national TV, here's a preview of the coming weekend in Major League Soccer.
(Note: All numbers reflect the amended Power Rankings published Thursday afternoon).
#1 Los Angeles Galaxy vs. #17 Colorado Rapids, Friday, 10:30 p.m. Eastern, NBCSN/NBC Sports Live Extra
Stakes: LA has asserted itself as the best team in the league, but after Seattle's mid-week win over Chivas USA, the Galaxy are staring at a five-point gap between themselves and the top of the conference. For Colorado, six losses in a row mean any result becomes progress, but after giving up a two-goal halftime lead against Los Angeles nine days ago, the Rapids may also be looking for a measure of revenge. If not that, then at least saving face.
Key Players: Deshorn Brown is Colorado's danger man. Unfortunately, he's only scored once in the last five games. Using Brown's speed to test Omar Gonzalez (and partner) should be a priority for head coach Pablo Mastroeni. For Los Angeles, a midfield that's averaging a West-best 54.7 pct. possession per game could limit the back line's exposure. Juninho, Marcelo Sarvas and Landon Donovan (above) are the key parts.
Prediction: "We tried to build on last week's performance in Seattle, but when the Galaxy are playing well, they're really hard to stop." — Mastroeni, after his team's 3-0 loss.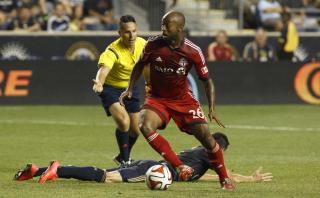 #18 Toronto FC vs. #6 Philadelphia Union, Saturday, 2:00 p.m. Eastern, Univision Desportes
Stakes: Toronto's slide is worse in our PRs than in the actual standings, but the Reds are still on the verge of losing their spot in the East's top five, a situation which got worst with Wednesday's defeat at PPL Park. With a second straight loss to Philadelphia, they'll drop behind the Union and into fifth in the East – potentially lower, given the right results from Columbus and New York.
Key Players: Conceding 12 goals in the last five games, goalkeeper Joe Bendik needs help from his key defenders: Doneil Henry and Nick Hagglund in central defense; Michael Bradley and Collen Warner (right) in midfield. For Philadelphia, an attack that hasn't scored more than one goal away since June 28 will need Sebastien Le Toux to stay hot.
Prediction: "It was better. You like to see that progress. Ultimately, though, we have to find a way to get three points out of these games." — Toronto head coach Greg Vanney after his team's 1-1 draw.
#11 New York Red Bulls vs. #10 Sporting Kansas City, Saturday 7:30 p.m. Eastern, NBCSN/NBC Sports Live Extra
Stakes: New York lingers at the edge of the East's playoff race, but sitting seventh in the conference, last year's Supporters' Shield winners are increasing the level of difficulty. The Red Bulls now have to outplay two teams over their remaining nine games to return to the postseason. Sporting, on the other hand, remain second despite a three-game losing streak that's seen them leak nine goals. They'll make the postseason. The question is how much damage they'll take in the process.
Key Players: Sporting should see Benny Feilhaber, Aurèlien Collin, and Dom Dwyer return to the field. Feilhaber and Dwyer were suspended for Wednesday's loss at New England, while Collin was held out of the mid-week match on turf. For New York, it all comes down to Thierry Henry, who will be looking for space in front of that struggling Kansas City defense to prolong the defending champions' woes.
Prediction: "We were missing Tim (Cahill), but that's no excuse. We know their game. We know they're strong in the middle. We didn't do enough to take advantage of what they gave us." — New York coach Mike Petke after his team's 2-1 loss
#4 Real Salt Lake vs. #2 FC Dallas, Saturday, 10:00 p.m. Eastern
Stakes: These teams are in danger of settling into those three and four spots in the West, adding importance to Saturday's night's showdown. Avoiding that four-five, mid-week, short rest play-in game should be a priority for both sides. Also a priority – at least, for Real Salt Lake: Redeeming the 2-1 loss they suffered two weeks ago against the 10-man Toros.
Key Players: For every Dallas opponent, it's all about stopping Fabián Castillo (right), who's proven lethal in transition this summer. For Real Salt Lake, Javi Morales's return to the lineup puts that midfield spine of him and Kyle Beckerman (also, right) back in focus. Dallas has to address both edges of that middle third.
Prediction: "That's RSL soccer. We wanted to show the game in Dallas was a fluke, and that's the type of game we're known for." — Real Salt Lake head coach Jeff Cassar after this team's 1-0 win.
#14 Vancouver Whitecaps vs. #3 D.C. United, Saturday, 10:00 p.m. Eastern
Stakes: Vancouver's reached a crisis, albeit an existential one. Without points, goals, ideas, or history to fall back on, it feels like the Whitecaps are at the mercy of fate, unable to muster an action that means anything in the bigger picture. D.C. United, on the other hand, rebounded from being shellacked in LA to win the Atlantic Cup. Unfortunately, they now get to deal with that unfamiliar BC Place turf.
Key Players: Perry Kitchen will need to prevent Pablo Morales's passes from rolling into spaces Darren Mattocks, Kekuta Manneh, and Erik Hurtado. Bobby Boswell will have to need himself out of situations where his foot speed will hurt him, while Sean Franklin and Taylor Kemp are going to have to help their central partners.
Prediction: "That's what can do. That's what we should do. We played like this against Kansas, then went into a bad spell. This time we have to move forward." — Vancouver head coach Carl Robinson after his team's 2-1 win.
#7 Columbus Crew vs #19 Chivas USA, Sunday, 3:00 p.m. Eastern, UniMas
Stakes: After last week's loss at a revitalized Montréal, Columbus is looking to continue its ascent up the Eastern Conference. The Crew's guests should prove accommodating. Not only has Chivas USA dropped 23 of their last 24 possible points, but the Goats will be without the suspended Erick Torres.
Key Players: Columbus has been getting most of its recent results without great performances from Federico Higuaín, but as the team's struggles at Montréal showed, the Argentine start will have chances to push his team over the top. If he can summon his early season form, Higuaín can start turning the team's nail biters into entries in the win column.
Prediction: "This is the type of performance I was looking for. When you're in a race like we are, it really helps when you can take these chances at three points. That's what the guys did." — Columbus head coach Gregg Berhalter after this team's 3-0 win.
#8 Portland Timbers vs. #13 San Jose Earthquakes, Sunday, 4:45 p.m. Eastern, ESPN2
Stakes: Portland is coming off its biggest win of the season, a 3-0 win at Vancouver that vaulted the Timbers into fifth place. San Jose, on the other hand, were held to a 1-1 at home against Real Salt Lake. While that loss (and, how it happened) was a missed opportunity, it still showed a team that's capable of playing spoiler into October.
Key Players: Tommy Thompson has been doing a great job of connecting San Jose's midfield to its attack, something that should be vital as Portland controls most of Sunday's possession. Between him and Chris Wondolowski, the Earthquakes will be able to generate chances on the counter. It's just a matter of Liam Ridgewell, potentially Norberto Paparatto, and whomever Caleb Porter starts at fullback preventing San Jose from having Seattle's success.
Prediction: "You think you've got the solutions one week, but there are a lot of tough teams in this league. We can't afford to keep making the same mistakes, against anyone." — Portland head coach Caleb Porter after his team's 2-2 draw.
#9 New England Revolution vs. #15 Chicago Fire, Sunday, 7:00 p.m. Eastern
Stakes: Chicago, with seven points in its last four games, has climbed to within four of a playoff spot. While that hot streak represents a season best for the Fire, New England is even hotter going into Sunday's game. With three wins in a row, New England has climbed into third place in the Eastern Conference.
Key Players: This may be the Jermaine Jones derby, with the two teams who drew for the U.S. international's services facing off, but the game's key player will be Lee Nguyen, who ran his goal total to 12 in New England's mid-week win over Kansas City. With a Fire relying on midfield of Razvan Cocis and Matt Watson, Nguyen, Kelyn Rowe, and Jones may be too much to stop.
Prediction: "That's the kind of heart this team has. We didn't get discouraged. If we played our game, with the guys we had coming off the bench, a breakthrough was going to come. And we got it." — New England head coach Jay Heaps after his team's 1-0 win.