Witness the competition for one of Major League Soccer's last expansion slots: new stadium renderings in Las Vegas; a rebuttal from San Antonio; the continued strength of Minnesota's options. As quickly as competitors are driving up that next expansion fee, they're also adding to the depth of their bids, be it with new stadiums, heightened lobbying, or new, more influential investors.
Today, Sacramento has added the third option. Selling his controlling stake in the team he founded, Republic FC's Warren Smith is giving way to Kevin Nagle, a part-time owner of the Sacramento Kings who now has a controlling interest in the Republic. Smith will stay on as club president, while Nagle becomes the leading figure in the nascent team's quest for first division soccer.
"Kevin's leadership and investment in Republic FC positions (gives) us as one of the top ownership groups in the sport," said Republic FC President Warren Smith, via a statement posted to the club's website. "His success, credibility and financial wherewithal provide us the capability to succeed with our MLS bid."
Sacramento mayor Kevin Johnson, described by the Sacramento Bee as a close friend and ally of Nagle, also praised the move.
"This is a big win for Republic FC and our efforts to secure an MLS franchise," Johnson said. A former NBA point guard, Johnson worked with Nagle to keep the Kings in Sacramento in the face of a last year's threatened relocation to Seattle.
The relationship may be why today's announcement is seen as a step forward in Sacramento's question for Major League Soccer. From the Bee:
The announcement that Nagle owns the Republic was seen as a necessary step to underscore the seriousness of Sacramento's bid to join MLS. Nagle and Johnson have spoken in general terms of formulating a privately financed stadium that could host an MLS team. One site could be in the currently vacant downtown rail yards.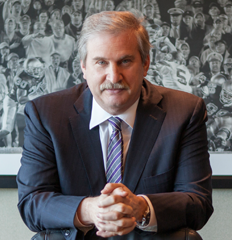 "I love Sacramento – its community, resilience and potential," Nagle said in the Republics, statement. "Early on, I admired Republic FC's success and efforts to galvanize this region; its bid for MLS is not only about sports, but also a shared vision for Sacramento. I am honored to work side-by-side with Mayor Kevin Johnson and Republic FC President Warren Smith to procure MLS for Sacramento and demonstrate why this region is built for MLS."
With Nagle in place and Johnson on board, Sacramento's meteoric rising into the MLS conversation should continue. While there are some concerns about the bid — lack of prolonged history; nearly losing its NBA team last year; being too close to the sun — there are a number of positives coming into play, included the team's record attendance in USL Pro.
Averaging 11,842 per game in the third tier, the Republic's success is undeniable. And solid ownership has always been a vital component of an MLS expansion bid. Looking across the landscape, few other locations offer the same collection of benefits as California's capital.
As somebody who has spent much of my life in Central California (albeit, not Sacramento), I'm torn. Of the many times I've visited Sacramento, exactly zero recommended the city for potential MLS success. Be it in its history, demographics, or the geography/environment of the region, Sacramento seems to bear few similarities to the markets that are now fueling Major League Soccer.
But thanks to Smith, that narrative is quickly changing. The huge fan base is reminiscent of the Cascadia teams that have joined the league over the last six years. The ownership group may become reminiscent of Joey Saputo (Montréal) or Phil Rawlins (Orlando City), though we'll need more time to judge. And although Sacramento's summer weather presents a challenge, it's not one that can't be overcome.
Whatever negatives we spitballed about Sacramento may find a different perspective, particularly in light of the rest of Major League Soccer's options. If the league were stopping at 20 franchises, the city may be a hard sell. Expand that field to 24, and all of a sudden Sacramento has a lot to offer.