Once teammates at Manchester United, Rio Ferdinand has recently criticized the club's decision to sell Danny Welbeck to Arsenal.
Ferdinand saw Welbeck come-up through the club and develop as a player from his youth days. He spoke out after the transfer, saying he believes Manchester United are "mad" for selling a player of Welbeck's quality, especially to a rival club such as Arsenal.
However, Ferdinand thinks the move will not only help Arsenal, but will also help Welbeck's form for England internationally.
"He's a real threat to defenders and, if Arsenal use him right, he will be very dangerous for them. That will be good news for England, too, because if he is playing regularly that has to benefit the national team."
With Daniel Sturridge out for England's upcoming match against Switzerland, Welbeck may be given the start by manager Roy Hodgson. The striker came off the bench and played 20 minutes in England's midweek 1-0 win over Norway. A strong showing in Basel would have Arsenal fans counting down the days to their next Premier League match against Manchester City, which could serve as Welbeck's debut at the Emirates.
[ RELATED: Why Danny Welbeck's move to Arsenal was the best Deadline Day deal ]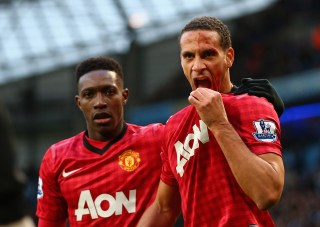 Welbeck's move came after a summer of speculation, as Louis van Gaal came into Manchester and retooled the squad that endured their worst-ever Premier League campaign last season. Welbeck was seen as excess talent behind the likes of Robin van Persie and Wayne Rooney, and was let go to the London side.
With Olivier Giroud out for an extended period of time following ankle surgery, Welbeck will be thrust directly into the Gunners lineup. Still only 23 years old and with plenty of big-match, first-team experience, Welbeck will look to earn more minutes and score more goals at Arsenal.
As we've discussed before, Welbeck prefers to play as a traditional central striker, rather than running the wings. With Alexis Sanchez making runs and the likes of Mesut Ozil and Jack Wilshere feeding balls, Welbeck can focus on one thing: scoring goals.