The last time we enjoyed a Premier League match, it was August.
Almost two weeks later, here we are. The PL is back and some intriguing storylines are developing ahead of Week 4.
| PL Playback | Stream PL via Live Extra | Power Rankings |
Here are 10 things to look out for this weekend across the league as you can watch every single game live online via NBC Sport Live Extra. Remember folks, set those alarm clocks for Saturday and Sunday morning!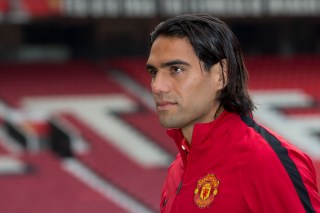 1. Seeing Manchester United's superstars in action, at the same time
This one is a head-scratcher. How do you fit Radamel Falcao, Angel Di Maria, Wayne Rooney, Robin van Persie and Juan Mata all into the same team? Good luck with that, Louis van Gaal. Manchester United added plenty of world-class attackers over the summer and they are available to play together against Queens Park Rangers on Sunday at Old Trafford. Will LVG get the balance right with new boy Marcos Rojo and Daley Blind at the back? We are about to find out.
2. Danny Welbeck's Arsenal debut
Much has been made about this signing on Deadline Day as the Gunners could have got a bit of a bargain. Welbeck scored twice for England in midweek and with Olivier Giroud's injury, he will likely be played as the lone frontman. Excitement is building about how Welbeck could link up with fellow newbie Alexis Sanchez and Mesut Ozil. Arsene Wenger has sent out mixed messages about Welbeck though.
3.  Can the Citizens rebound at the Emirates?
After that shock 1-0 defeat to Stoke City at home last time out, Man City's players have had two weeks to let it fester. Will they come flying out of the traps at the Emirates Stadium? Last season they did that, but then let Arsenal off the hook in a 1-1 draw. The PST gang break down the weekend's most intriguing matchup.
4. Mario Balotelli being the main man for Liverpool
Daniel Sturridge is out injured and could miss the next six games for Liverpool. 'Have no fear, Super Mario is here!' Or something like that… Anyway, Balotelli will be making his Anfield debut against Aston Villa on Saturday and will hold the goalscoring burden as the main man while Sturridge is out injured. Balotelli will come up against Ron Vlaar and Philippe Senderos, two powerhouses at the heart of Villa's defense. That will be an intriguing battle as the Italian must keep his head.
5. Scrap at the Stadium of Light
Tottenham Hotspur head to the Stadium of Light after a week of headlines off the field and coming off the back of a 3-0 drubbing to Balotelli's Liverpool. They play Sunderland and it will be a real battle on Wearside as two South American managers clash in Mauricio Pochettino and Gus Poyet. Both insist on high-pressure and Pochettino's former side Southampton went to Sunderland three times last season in the league and cup, lost twice and blew a 2-0 lead. Poch will hope it's a much happier hunting ground for him with his new team who must rebound, but they will have to work hard vs. the Black Cats.
6. Can the Toffees get through their sticky patch?
West Brom away. Before the season, you'd mark that down as a routine win for Everton, but after a tricky start where they have two points from three games and have let in 10 goals, Roberto Martinez's men aren't flowing. The Toffees look a little disjointed, especially at the back, and you get the feeling that their late collapse against Arsenal at home in Week 2 really knocked the stuffing out of them. Romelu Lukaku has yet to score and needs to put in a big display against his former team.
7. Eagles and Clarets battle for first win
Much like the match at Sunderland, this will be a real ding-dong battle, a blood and thunder affair, a …. okay, you get the picture. Both teams are still without a win this season and it is Neil Warnock's first home game back in charge of Palace. Both teams will be earmarking this as 'must-win' already and it will be a game of few chances as Burnley have done well at stifling the opposition thus far in the PL. Passion, power and crunching tackles will be in abundance at Selhurst Park.
8. Top of the table clash between Chelsea and… Swansea
Okay, so it may not always be billed as a top of the table clash but on Saturday it will be. Both Chelsea and Swansea are the only two teams to win three from three so far. Garry Monk's men have impressed, especially as they walloped West Brom 3-0 before the break. Can they upset Jose Mourinho and Chelsea? The Blues have looked imperious, smashing six past Everton and the signings of Diego Costa and Cesc Fabregas continued to make the 'Special One' look, erm, special. A cracker for you to enjoy.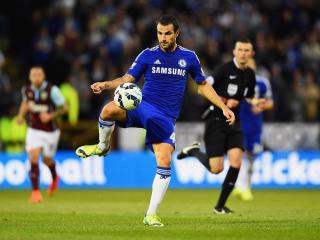 9. Saints' silky skills to get past under-pressure Magpies?
Ronald Koeman's brand of "sexy football" hasn't taken long to unearth itself on the South Coast. Saints cruised past West Ham 3-1 away from home last time out and will now look to hammer one of the final nails in the coffin of former manager Alan Pardew. His Newcastle side are without a win, and coupled with their poor form to finish last season, Pardew is on borrowed time already. Saints' silky stars such as Dusan Tadic and Morgan Schneiderlin could spell trouble for the Magpies. Also, spare a thought for Newcastle's fans who make the longest journey in the PL this weekend, a 750 mile round trip for the Toon Army.
10. Vanishing spray. Legendary.
Okay, let's finish this on a lighter note. How much do we love the vanishing spray? I know, right. Also, how much do fans inside Premier League stadiums love vanishing spray? Even more, it seems. Listen in to the audio on all the games this weekend whenever a referee is using the spray. The crowd will build up tension and ring out the 'ole's' when the spray is being applied. Like a wielding matador, referee's have so far used swaggering panache to perform a pretty mundane task. You try telling PL crowds it's mundane. They love it, as do I.