Two more NBCSN games highlight another full slate of Major League Soccer action, with a meeting between two of the league's top four teams kicking off the weekend in Seattle. 
Here is a quick look at the league's nine-match slate. All numbers reflect the teams' current place in our Major League Soccer Power Rankings.
#5 Seattle Sounders vs. #2 Real Salt Lake, Friday, 10:30 p.m. Eastern, NBCSN/NBC Sports Live Extra
Stakes: Games between these two always seem bigger than they actually  are. Both teams are going to make the playoffs, in all likelihood avoiding that four-five play-in game.  Sure, there are Supporters' Shield implications, but a loss isn't going to derail either team's season. Win, lose, or draw, both are going to be contenders to make it out of the West this November.
And yet, it feels like this game is going to tell us something. Maybe it won't tell us a lot, but consider the team's two previous meetings. Seattle issued RSL a huge wakeup call at the end of May but never seemed fully in the game during a 2-1 loss at Rio Tinto (August). Neither game seems representative of how the teams would matchup in the playoffs, but given how the series' first 180 minutes have played out, good luck predicting what will transpire tomorrow.
Key Players: Obafemi Martins seems programmed to give Nat Borchers trouble. Quick, versatile, and relentless, Martins is capable of occupying the attentions of both Borchers and partner Chris Schuler, leaving more space for Clint Dempsey to pick up (and quickly layoff) the ball.
It's an edge Seattle has against anybody, but if Osvaldo Alonso and Gonzalo Pineda can hold their own against RSL's four-man middle, it could prove particularly valuable on Friday.
Prediction: Sounders … no, draw … no! Sounders. 2-1.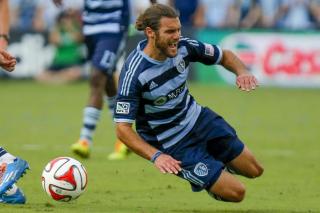 #19 Chivas USA vs. #12 Sporting Kansas City, Friday, 10:30 p.m. Eastern
Stakes: Sporting Kansas City's four-game losing streak goes from unfortunate turn to full blow soccer crisis (mate) with a loss in Carson, Calif. How likely is that? Seems "astronomically unlikely," but this is a Kansas City team that gave up three goals at home to Houston. They're making the impossible possible.
Key Players: You have to think focused performances by Graham Zusi (right) and Benny Feilhaber see Sporting dominate the ball. And with Matt Besler and Aurelien Collin's frustrations growing at the back, the central pair should take pride in shutting down a returning Erick Torres. (Who isn't returning at all, because he has one game left on his suspension.)
Prediction: The only way Sporting doesn't win this one is if they don't care enough to make a stand. And that's not the Sporting we know. Kansas City, 2-0.
#7 Philadelphia Union vs. #10 New York Red Bulls, Saturday, 3:00 p.m. Eastern, NBCSN/NBC Sports Live Extra
Stakes: Philadelphia has won three out of four and are dead even with Columbus for the East's last playoff spot. Ahead of that duo is New York, who overcame a lackluster performance on Wednesday night to take full points, vaulting the Red Bulls into fourth place. Winner stays in the top five. Loser risks falling out.
Key Players: Thierry Henry, of course, for New York, but Tim Cahill should be back in the starting lineup after returning from international duty. (He was only available off the bench on Wednesday.) With New York now playing 4-2-3-1, it will be interesting to see where a slots in. If it's above Dax McCarty and Eric Alexander, New York will go forward with a much more capable midfield.
Regardless, the Red Bull attack will have to break through defender Maurice Edu and midfielder Amobi Okugo while McCarty tries of cut off Philly's access to Conor Casey and Sebastien Le Toux.
Prediction: Philadelphia hasn't lost at home since May, while New York hasn't won on the road since March. Henry taking advantage of space behind Le Toux, in front of Sheanon Williams, sounds promising, but the prospect is not without drawbacks. Union, 2-1.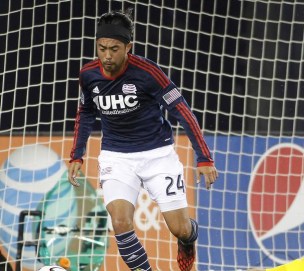 #6 New England Revolution vs. #13 Montreal Impact, Saturday, 7:30 p.m. Eastern
Stakes: As much as we've talked up Montreal today, they haven't been strong away from home, and with a surging New England, the Impact are facing a second straight difficult foe.
Winners of four-in-a-row, the Revs are now within three points of Sporting Kansas City, and while this isn't the weekend they're likely to overtake the champs, they'll look to stay within reach.
Key Players: What Henry is to New York, Lee Nguyen (right) is to New England – the playmaker who may be a little too important to his team's success. With Jermaine Jones quickly making an impact in the middle, the Revs have a second player who can define games, making it all the more important that Felipe and Calum Mallace do enough to give Ignacio Piatti  a chance to steal a result.
Prediction: Montreal's scoring goals lately, but they've done a very poor job of preventing them. New England, 3-2.
#16 Chicago Fire vs. #18 Toronto FC, Saturday, 8:30 p.m. Eastern
Stakes: By the rankings, this is the weekend's worst matchup, and unfortunately for viewers, the teams' entertainment values match their recent results. Even though the sides combined for four goals at BMO Field last month, the game was forgettable.
Key Players: A big game from Michael Bradley (right) likely ends Toronto's five-game winless streak, but it's been some time since we saw one of those. Against Chicago's two-man midfield (Razvan Cocis, Matt Watson), Bradley will have a chance to be the game's defining player, and with Dominic Oduro, Gilberto, and Luke Moore as scoring threats, Toronto has way to steal this result.
Prediction: Quincy Amarikwa or Robert Earnshaw. One of these guys will pressure a mistake out of that Toronto defense. When Doneil Henry accidentally clotheslines Amarikwa, the Fire will have their 1-0.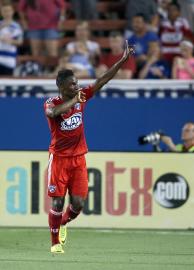 #4 FC Dallas vs. #14 Vancouver Whitecaps, Saturday, 8:30 p.m. Eastern
Stakes: Coming off two straight losses, Dallas needs this one to recapture the moment that carried them unbeaten through most of thesummer. For the Whitecaps, this is a chance to consolidate their new two-point lead for the West's last playoff spot.
Key Players: After going seven straight games with at least a goal or an assist, Fabian Castillo (right) has been silenced in the last two. Until Mauro Diaz is fully healthy, the Colombian may be Dallas's only route to success, making it all the more important Matias Laba stay in position to limit the damage from FCD's counters.
Prediction: Kendall Waston's virtues on set pieces gives Vancouver a way to steal this game, and with the Whitecaps willing to sit in their own end on the road, you could see this devolving into a one-goal affair. After two straight losses, though, Dallas should be focused on full points, with the Whitecaps' road approach giving the Toros plenty of chances to convert on dead balls. Dallas, 2-0.
#11 Houston Dynamo vs. #8 Columbus Crew, Saturday, 8:30 p.m. Eastern
Stakes: Given how Columbus tore Houston apart three weeks ago, the Crew should feel confident they'll improve on May's 1-0 loss at BBVA Compass. Since then, Houston has plummeted toward the bottom of the East, but thanks to nine points in their last four games, the Dynamo are back in the playoff race. Their only stumble in that time: At Crew Stadium.
Key Players: Surprisingly, Houston was beaten at its own game in Ohio, with early second half goals from Adam Bedell and Aaron Schoenfeld seeing Columbus capitalize on direct play. Add in Justin Meram's hot streak (five games, five goals) and the presence of Federico Higuain, and the likes of David Horst and Ricardo Clark (right) will have their hands pull.
Prediction: Between Tyler Deric in goal and A.J. Cochran in defense, there's some unproven talent at key positions for Houston right now. But the Dynamo have been strong at home this season (7-3-3), and although Wil Trapp and Tony Tchiani will be back for Columbus, the quality in that Houston midfield should be able to protect home field. Dynamo, 2-1.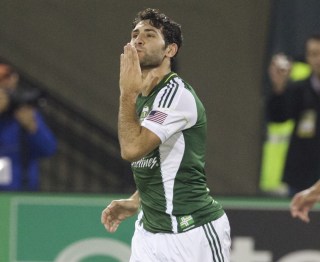 #18 Colorado Rapids vs. #9 Portland Timbers, Saturday, 9:00 p.m. Eastern
Stakes: Colorado's a lost cause. Injuries at the back have taken their toll, while the team's gone 240 minutes without a goal. Seven straight losses have ended their playoff hopes.
Though Portland's defense was again exposed last week, the team's attack remains among the most potent in Major League Soccer. And after a home draw against San Jose, Caleb Porter's team will be looking to reclaim points lost.
Key Players: Diego Valeri (right) is the key for Portland. Though Rodney Wallace's absence (international duty) means Valeri may start wide right, he'll be at center of everything Portland goes, giving Colorado left back Marc Burch a chance to be the hero or the fool.
At the other end, Liam Ridgewell needs to play better. While it may be unfair to ask a player to adjust to a new league immediately, this is an All-Star Designated Player. He's being paid to solidify Portland's defense.
If he can't, Deshorn Brown's scoreless slump (six games, one goal) will come to an end on Saturday. And Colorado may get back into the win column.
Prediction: Irresistible force: The back of Portland's net. Immovable object: Colorado's place in the form table. Despite the Timbers' history of struggles in Commerce City (one point in five games), a team focused after last week's disappointment gets this result. Portland, 3-1.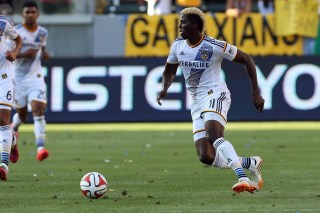 #15 San Jose Earthquakes vs. #1 LA Galaxy, Sunday, 3:00 p.m. Eastern, UniMas
Stakes: Wednesday's loss was a major setback for San Jose, who held faint hopes of making the playoffs. Losing to one of the teams in their way (a slumping one, at that) may stop the Earthquakes from fooling themselves. They're not making the postseason.
Contrast that with the Galaxy, who are only one point behind Seattle in the Supporters' Shield race. After LA's mid-week draw, the Sounders have a game in hand, even if the Galaxy look like the strongest team in Major League Soccer.
Key Players: Landon Donovan's last six games: four goals, six real assists (no hockey gimmes), and two MLS Player of the Week honors. What's most impressive about that? He may not be LA's hottest player. Gyasi Zardes (right) has five goals in his last three games. With 56 goals in 27  games, LA has the best attack in Major League Soccer.
It's hard to see San Jose getting anything from LA without a huge game from Jon Busch. The veteran goalkeeper made 10 saves in Portland, but he may need an even performance on Sunday. Whereas most of the Timbers' shots were right at him, Los Angeles may do a better job of missing his gloves.
Prediction: The Galaxy won their last trip to San Jose, 1-0 in June. They're even better now. LA, 3-0.