Steven Gerrard bailed Liverpool out with a last-gasp winner at Anfield on Tuesday against Bulgarian minnows Ludogorets, but it was hard to ignore the warning signs emanating from the Premier League teams performance. Yet again.
[RELATED: Champions League roundup]
After losing 1-0 to Aston Villa at home on Saturday, Liverpool were moments away from another shock result as Ludogorets equalized in the 90th minute. Only a moment of madness from on loan 'keeper Milan Borjan handed the Reds a lifeline which veteran Gerrard duly grabbed from the PK spot, but manager Brendan Rodgers must be a little concerned about his teams form to start the 2014-15 season.
Speaking in the tunnel after the game, his captain Steven Gerrard seems to be concerned.
"We did OK but it wasn't better than OK. There's a lot to learn, we were caused problems on the counter-attack like we were against Aston Villa. You have to give Mario Balotelli credit, it didn't go his way for long periods but the sign of a good goalscorer is to keep going and get a chance. What's more important is his work rate. If we win in Basel now it puts us in a good position but we must do better."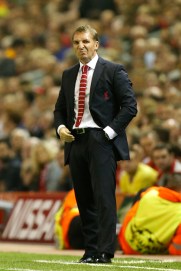 After the game, Rodgers also revealed that his side are failing to play to the same standards they set for themselves last season. There are a few reasons for this and there is certainly no quick-fix. Look, there's no disaster here as Liverpool beat Ludogorets, a former amateur team who were only established 13 years ago, but the manner in which they continue to play is worrying. After four PL games they have two wins but were comfortably beaten by Manchester City and the shocked by Villa as the growing pains of assembling a new-look side continue.
[RELATED: Liverpool 2-1 Ludogorets – Gerrard saves the day]
Mario Balotelli, despite scoring his first goal for the Reds with a late well-taken effort, worked hard but looked lost on his own up top and is still failing to gel properly with his new teammates as he tries to fill the Luis Suarez-sized void in the offense. The Reds are also missing Daniel Sturridge massively, as the pace and direct style of play the injured England international is exactly what is missing. On Saturday against Aston Villa, Liverpool had 75 percent of possession in their defeat and had 64 percent against Ludogorets. That possession was often slow and predictable, as they really haven't got in behind the opposition and stretched teams (playing without Suarez and Sturridge will hamper that) who are happy to sit in two banks of four and defend what they have.
Defensively the Reds still looked susceptible on the counter attack as young full backs Alberto Moreno and Javier Manquillo were both caught pushing too high up and center backs Dejan Lovren and Mamadou Sakho aren't the quickest. That led to Ludogorets' goals as one simple pass through the middle cut Liverpool apart.
After dissecting the areas Liverpool need to work on, it's not all doom and gloom. They have plenty of new players who are finding their feet at Anfield but Rodgers will be worried that it's taking them over a month into the season to settle down. On the flip side, Liverpool would probably have lost a tight game like this when Rodgers first arrived back in 2012 but signs of regression are already starting to creep in.
If Liverpool play like they did on Tuesday then they will struggle to beat their other Group B opponents FC Basel and get hammered by Real Madrid. They were let off the hook against Ludogorets as Gerrard and co. know they must regain their form. And fast.