Manchester City faces a daunting task as they begin their Champions League group play with a match away at Bayern Munich.
The two domestic league champions have been placed in the same group for the second year in a row, with both teams advancing last season. While Bayern won the group, the teams split matches against each other, with the away team winning on both occasions.
After starting off the season with two emphatic wins, City has slowed its pace with a home loss to Stoke and a 2-2 draw at Arsenal. Manager Manuel Pellegrini knows his club has a long season ahead of them, and this matchup against Munich signifies the start of their quest for European glory.
[ RELATED: PST Staff's UEFA Champions League picks ]
While Pellegrini will make the starting lineup calls, he will not be present on the touchline for City. The Chilean is still serving out a UEFA suspension dating back to last year's competition, when he was punished for criticizing the referees after a loss to Barcelona. Assistant Ruben Fuse will take over the reigns tonight.
This could be a blessing in disguise for City, as Pellegrini has had trouble dealing with Pep Guardiola in the past. In their previous ten meetings, Guardiola has eight wins, one draw and one loss. Not too shabby.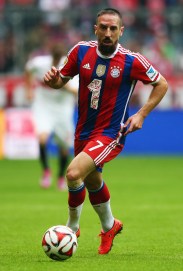 But Guardiola will be dealing with his own issues as French midfielder Franck Ribery has been ruled out of the match with a lingering knee problem. Ribery scored in his season debut last Saturday, but was unable to recover in time for their Champions League match today. Arjen Robben is also battling a knee injury and is doubtful to play, leaving Guardiola with decisions on how to replace two of his top playmakers.
Munich's best chances of attacking are down the left flank, where they could pair the speed of Xherdan Shaqiri with the skill of Thomas Muller. This combination is nearly impossible to defend and will be even more of a problem for City as right-back Pablo Zabaleta is not available for the match. Similar to his manager, Zabaleta is still serving a UEFA suspension dating back to their match with Barcelona last season.
With both teams coming off of domestic championships and Champions League disappointment, their match tonight is a statement game. A dominant performance by one side would send a message to the rest of Europe. Prediction: 2-0 Bayern Munich.