'SUPER FRANK' SCORES FOR  CITY, SALUTED BY CHELSEA
From time to time, the Premier League throws up storylines you can only dream of. During Week 5 there were some great scenes but perhaps the most lasting memory will be Frank Lampard scoring in a game involving Chelsea, but not for them.
In the 85th minute on Sunday, Lampard popped up in the box to score his first goal for Manchester City on his home debut and grabbed the Citizens a point after they'd been reduced to 10-men. The former Chelsea man didn't celebrate the goal and at the end of the game Lampard looked shell-shocked as he walked over to the Chelsea fans situated in a pocket at one end of the stadium. Lampard received a standing ovation from those fans, as this may well be the only chance they get to show the England midfielder their appreciation with his new career in MLS calling him Stateside before 2015 arrives. City's fans also applauded 'Lamps' off the pitch as the love was there from both fans (even if Mourinho said Lampard's 'love story' is over at Chelsea) and players, as Didier Drogba took to social media to salute "his idol" and a "true legend."
Here's what Lampard had to say about his equalizer, his feelings and the spine-tingling salute he received. A remarkable moment for one of the greatest players in Premier League history.
"It's a difficult one," Lampard said. "I would be unprofessional if I didn't come on and do my job and get in the box. It's a tough one. I had 13 amazing years with the Chelsea fans so I am mixed. I am obviously pleased the team I play for got a draw. It's a really hard one… I'm a bit lost for words to be honest. I didn't expect to come on and score like that. I come on and the Chelsea fans are singing [for me] so that's emotional and then these fans [Man City] have taken to me and been brilliant as well. I'm really stuck in the middle here."
For well over a decade 'Super Frank' has been the heart and soul of Chelsea Football Club. Over the summer the 36-year-old left Stamford Bridge as the clubs legendary all-time leading goalscorer saw his contract run out and has since signed for New York City FC in Major League Soccer. Lampard has since, somewhat surprisingly, been loaned out to NYCFC's sister club, reigning PL champions Manchester City. This wasn't the kind of thanks he would have been hoping to give Chelsea's fans as he previously stated he didn't want to play against them. Then he came off the bench to score… Who writes these scripts?
By doing so, Lampard became the first player in PL history to score against 39 different teams, as he scored against his beloved Chelsea for the first time in his career and delivered yet another memorable moment. This time, it came while wearing a lighter shade of blue.
Premier League Schedule – Week 5

HOW CAN UNITED SOLVE DEFENSIVE WOES?
Another prominent storyline to come out of Week 5 was the 5-3 drubbing Manchester United received at newly-promoted Leicester City.
Louis van Gaal's men raced into a 2-0 lead as superstars Angel Di Maria and Radamel Falcao shone, but defensive lapses stated to creep in as Leicester pulled one back before half time. Around the hour mark United made it 3-1 and it looked to be over, but then they imploded in a fashion we've never seen from the Red Devils. Not this month, anyway… Leicester scored four unanswered goals in the final 27 minutes at the King Power Stadium and van Gaal's revitalization of United came to a shuddering halt.
[RELATED: Watch full match replays]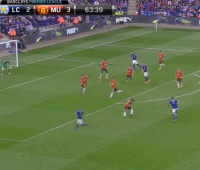 This win has to go down as the best in PL history for Leicester but, as is customary, the continued struggles of one of the worlds biggest clubs will grab the headlines on Monday morning. The shocking defensive display from United in the second half, and particularly after Jonny Evans had to go off injured in the first, was hard to believe. It is what happens when a midfield diamond is ridiculously top heavy.
Leicester caught United rocking in a 17 minute spell as they scored three times to turn things around and make it 4-3, before Leonardo Ulloa's late penalty sealed a famous win for the Foxes. The newly-promoted side had lost nine-straight PL games to United before's Sunday's eight-goal thriller. Wayne Rooney, playing at the top of the diamond, set up Di Maria to score and slotted in perfectly as the chief creator offensively. However, defensively he was sloppy in the moment that mattered most. In the 62nd minute Rafael gave away a penalty which David Nugent scored to make it 3-2 and for all of United's dominance, that's where their experienced players (captain Rooney, I'm looking at you) needed to grab hold of everyone and say 'okay, let's come things down and not conceded for 5-10 minutes.'
[RELATED: Latest Premier League standings]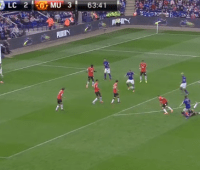 Instead, Rooney failed to track Esteban Cambiasso from 40 yards out and let the Argentine midfielder ghost into the box to make it 3-3 before screaming at the players around him. Look at the images number 1 to 3 on the left and right to see the move develop for the pivotal third goal which really sent United into a downward spiral from which they never recovered. Rooney, usually a forward  but deployed in an advanced midfield role, is caught on the edge of the box ball-watching as Leicester's midfielders flood in. Tyler Blackett is so deep initially that the rest of the United defense drop inside the 18-yard box and six players are marking nobody. Then Cambiasso arrives unchallenged to hammer the ball home and send the King Power wild.
From that moment on, United were dead men walking and the sequence which led to Jamie Vardy's goal to make it 4-3 was simply shocking. One long ball in behind the pedestrian duo of Chris Smalling and Blackett set the former Halifax Town man free as LVG sat in the dugout with his head in his hands after his side coughed up a 3-1 lead. Going forward, the defensive issues will be helped by Luke Shaw's return to fitness, plus Phil Jones coming back. When that happens we will likely see a back four of Rafael at right back (he didn't cover himself in glory with a silly challenge to concede the first PK), Phil Jones and Marcos Rojo at center back and then Shaw at left back.
It wasn't only the defenders who were at fault for United's capitulation on Sunday in the Midlands. Van Gaal's top heavy side succumbed to Rooney's lack of tracking back, Di Maria's insistence to follow suit and the duo of Falcao and RVP not coming back past the halfway line. Leicester's modestly manufactured diamond outclassed and outworked United's hugely expensive one. This United rebuild will take time, we all know that. But did anyone, including van Gaal, expect the Red Devils to be hammered 5-3 at Leicester?
"It is not good because we had the game in our pocket and gave it away," van Gaal said. "Not because of Leicester; we gave it away and I don't like that. We have too many players who want to seek for the goal. You cannot say the defense was weak. You play like a team, Leicester showed that. We did not play like a team in the second half and that is not only defence. In a defensive situation the whole team is responsible, not just one defender."
Credit must go to the Foxes for dismantling United in front of a raucous home crowd but this victory should come as no surprise. In their three home games this season, Leicester have drawn with Everton and Arsenal and beaten Manchester United. It's safe to say Nigel Pearson's workmanlike side are adpating to life in the PL better than anyone expected. Right now they have eight points from five games and have a much more favorable schedule on the horizon. Also, their performance proves the perpetual unpredictability of the PL as plenty of so-called underdogs upset the apple cart in Week 5. Watch the highlights below from United's latest humiliating defeat, as their inability to defend and van Gaal's insistence on placing all of his superstar attackers in the same starting lineup came back to bite him at Leicester, hard. At the point last season under David Moyes, United had seven points and sat in eighth place. Right now, after splurging over $200 million over the summer, they sit in 12th spot with five points.
OZIL AND WELBECK THE NEW BERGKAMP AND WRIGHT?
Was it just me, or did anybody else have this flashback when watching Arsenal on Saturday? As Danny Welbeck played in Mesut Ozil for the first goal, then the duo combined 79 seconds later for Welbeck to score his first Gunners goal, it reminded me of one of the greatest strike partnerships in recent Arsenal history: flashes of Ian Wright and Dennis Bergkamp emerged on the Villa Park pitch on Saturday.
Okay, that may be a stretch, but both Welbeck and Ozil exhibit remarkably similar characteristics to the Arsenal legends I've likened them to.
[VIDEO: Premier League highlights, here]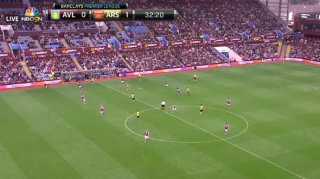 Aston Villa were hit for three goals in just 192 seconds on Saturday, as Arsenal tore them apart with two stunning moves initiated by Ozil and Welbeck. German international Ozil has had plenty of critics since he arrived for $100 million from Real Madrid last summer but scored his first goal of the season thanks to Welbeck's vision and his own willingness to make runs through the heart of Villa's defense. On plenty of occasions, Ozil was the furthest man forward and drifted in from the left to play centrally, where he is at his most dangerous. Ozil has shown he can torment Villa's defense but he must now shine in the big games against the best teams in the PL and Europe.
Welbeck and Ozil, just like Wright and Bergkamp, seem to have already developed that kind of telepathy which exists between players who click right away. Welbeck has had a handful of training sessions at Arsenal after his Deadline Day move from Manchester United but is already off the mark and his ability to find Ozil for the first goal, then lay the ball off and time his run into the box to get on the end of Ozil's cross for the second, must not be underestimated. That's not easy to do, but in a blistering three-minute spell on Saturday Ozil and Welbeck single-handedly won Arsenal the game.
That glimpse of greatness similar to the antics of Wright and Bergkamp will have Arsenal's fans salivating. It was only a glimpse, but Ozil and Welbeck seem to be on the same page.
Watch them in action below, as a Villa side impacted by a sickness bug gave up their unbeaten record.
Premier League Star Performers – Week 5
| Player | Reason |
| --- | --- |
| 1. Leonardo Ulloa (Leicester) | 2 goals, predatory for Foxes |
| 2. Mesut Ozil (Arsenal) | 1 goal, 1 assist, superb |
| 3. Winston Reid (West Ham) | 1 goal, led Hammers defense |
| 4. Frank Lampard (Man City) | 1 goal, storybook career |
| 5. Yannick Bolasie (Palace) | 1 goal, ripped Everton apart |
REGRESSION ON MERSEYSIDE
It was a bad Saturday and Sunday for soccer fans along the banks of the River Mersey.
Liverpool were shocked 3-1 away at West Ham on Saturday, then Everton were beaten 3-2 by Crystal Palace on Sunday as the regression of both teams continue.
[RELATED: Premier League stats]
On one of my many trips to Liverpool last season, I wrote this longform piece about the city before a pivotal Merseyside derby last term, as both teams were in the top four hunt and a positive vibe was in full force. This Saturday Liverpool host Everton at Anfield in the 223rd edition of the derby, and both teams are in desperate need of a win after disappointing starts to the current campaign.
[RELATED: Premier League schedule]
Liverpool have lost three of five, while Everton have now conceded 13 goals in five games and have just one win. Due to their success of last season, both sides are back in European competition after lengthy absences. Liverpool beat Ludogorets 2-1 in the UEFA Champions League last Tuesday, while Everton beat Wolfsburg 4-1 on Thursday. This weekend, perhaps due to their midweek European outings, they put in jaded displays as their squads come to grips with the grueling demands of trying to succeed in the PL and in Europe. Right now, domestic success is evading both squads and that will add extra spice to one of the finest, and fiercest, derbies in world soccer which you can watch at 7:45 a.m. ET on NBCSN this Saturday.
Mario Balotelli poked fun at Manchester United's shocking defeat to Leicester on Sunday, but his own performance against West Ham on Saturday left a lot to be desired as Daniel Sturridge's return to fitness can't come soon enough for Liverpool.
Across Stanley Park, Tim Howard's Jekyll and Hyde season continues after he recorded the most saves in a single Europa League game on Thursday (12), but gave away a PK for Palace's opener and made a hash of a cross for the second goal on Sunday. Everton's defensive woes will be very concerning for Roberto Martinez but his attack-minded approach is always likely to leave the Toffees open at the back.
In the video above our analysts examine Liverpool's struggles, as Rodgers' men are finding 'life after Luis Suarez' particularly challenging this season as the new boys are struggling to settle in.
TOP FIVE GOALS. YOU DON'T WANT TO MISS THESE…
Two stunners from Hull City, Di Maria's wondergoal, Sakho's cheeky chip and Kranjcar's cracker.
Watch five goals of the very highest caliber below in the top strikes of Week 5.
MEN IN BLAZERS POLISH THING OFF
It seems only appropriate, and positively necessary, to let the MiB wrap things up after an incredible weekend chocked full of drama. From Louis van Gaal's many moods (described as the 'Hulk in reverse' by Rog) to Liverpool's sad long-haired fan, let the lads round up all the important stuff.
[RELATED: Full archive of the Men In Blazers]
Plus, remember, you can watch the premiere of "The Men In Blazers Show" on NBCSN on Monday, tune in at 10 p.m. ET.
Premier League Playback comes out every Monday as PST's Editor and Lead Writer takes an alternative look at all the action from the weekend. Read the full archive, here.