Last week Premier League side Stoke City announced they will be linking up with youth teams across North America.
The plan is to try and raise Stoke's profile in the U.S. and Canada, while also passing on knowledge from their academy coaches and providing a potential gateway for young players to make their way to the PL.
[RELATED: Americans Abroad review]
Stoke City currently have Geoff Cameron, Maurice Edu and Brek Shea on the books, (the latter two are out on loan) and recently signed USMNT forward Juan Agudelo but couldn't get the necessary UK work permit so had to release him. It's safe to say that the Potters are trying hard to break into the North American market, as they toured the U.S. during the summer of 2013, playing against FC Dallas, Houston Dynamo and the Philadelphia Union.
When the announcement was made about the academy being launched, Stoke's manager Mark Hughes had the following to say.
"Our North America academy is a project the Club has been progressing with for a number of years," Hughes said. "This is just another arm of our development and recruitment strategy. Hopefully it's successful. We've got good connections in the US."
Those connections will only grow stronger with the help of Global Image Sports. Recently I spoke to Chief Operating Officer Michael Kelleher about the initiative and how both Stoke and youth soccer players in America will benefit from the partnership.
"We will look to partner Stoke with 10 clubs across the U.S. within the first five to six months," Kelleher said. "It is a free partnership through Stoke City and the affiliate teams will wear a badge on their shirts promoting Stoke, get email updates on the partnership and they will host talent ID camps where the best players from there will either go to a residential camp or an experience camp in the UK. If Stoke see someone that they like and want to sign that player up to their academy then we get the wheels in motion, under the very strict FIFA guidelines, for that player to join Stoke City."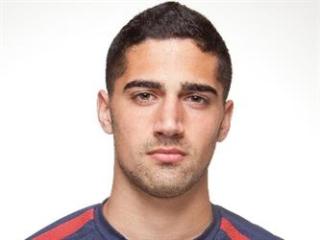 Global Image Sports has nine professional clubs on the books (West Ham, Stoke, Charlton, Sheffield Wednesday, Wolverhampton Wanderers, Glasgow Rangers, Sampdoria, Chievo Verona and FC Utrecht) and after West Ham United, Stoke are the second Premier League team to set up a U.S. academy in this manner.
[VIDEO: Premier League highlights, here]
Kelleher revealed that current U.S. youth international and a professional with West Ham United, Sebastian Lletget, was spotted at one of their clubs in California and recommended to the Hammers. Lletget is now part of West Ham's first team in the Premier League but there are increasingly strict visa laws, which you can find more on here, as U.S. players looks to ply their trade in Europe. Having access to a European passport is virtually essential to making the dream of hopping across the pond a reality.
Undoubtedly this is a two-way street, with the PL clubs eager to grow their brand in North America but the players and clubs affiliated with them will also benefit with potential opportunities to play overseas and gain top class information from coaches at a Premier League academy.
What would be a success for this particular partnership?
"From our point of view it will be to get Stoke exposure in the U.S." Kelleher said. "Everybody has heard of Manchester United, Chelsea, Arsenal and Manchester City in the USA. We want to give other clubs who play in the same league some exposure as well via the camps, coach education and more. It will provide Stoke with exposure in the USA but also in Asia and Australia to help with their global branding. Plus, ideally, in three of four years, a player will come out of this. That would be the icing on the cake."
Keheller also revealed how coaches of the affiliate clubs in North America will have access to speak with academy coaches from Stoke to put together training methods, tap into their knowledge and work in unison. One of the big advantages for Stoke is that they will now have access to several top club teams in the U.S. and it will branch out their scouting network with very small costs to the club itself. They will not have to fly scouts all over the world to look at players, instead their clubs in North America can report back on talented youngsters and that's how their development will be monitored.
This link up between Stoke City and North America is a proactive approach as the Potters continue to grow their brand Stateside.