After Toronto FC released stunning plans for a $120 million upgrade of BMO Field on Tuesday, it's time to take a look at how far stadiums have progressed in the last five years in Major League Soccer.
[RELATED: NFL stadium-shares the future?]
Gone are the days of MLS teams playing in huge NFL stadiums with the bellowing voices of players echoing around and the atmosphere as flat as a pancake. Soccer-specific stadiums and savvy redesigns of larger venues has added to the positive aura surrounding MLS. Attendances are up, more new stadiums and teams are on the way and things are looking bright for the future.
Let's take a look and see where the league is currently at, stadia wise, compared to five years ago.
Atlanta
Will join MLS in 2017 as an expansion franchise. Their home stadium will have a 30,000 capacity for soccer as they will share a 65,000 stadium with the NFL's Atlanta Falcons. Movable roof partitions will section off the lower and upper tier for MLS games. Genius.
D.C. United
2009: At RFK Stadium as the old Washington Redskins home is in need of major restoration work…
2014: … still at RFK but plans to build a new stadium at Buzzard Point are being pushed along. In recent statements, owners revealed that progress is being made.
Houston Dynamo
2009: Dom Kinnear's men were playing at Robertson Stadium on the campus of the University of Houston from 2006-2011. Hardly ideal as American Football lines were present late in the season.
2014: Moved to a brand spanking new $100 million stadium in downtown Houston in 2012. The 22,000 capacity BBVA Compass Stadium is state of the art and became the Dynamo's new home in the heart of Houston.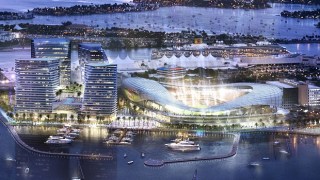 Miami
David Beckham's new franchise in South Florida is struggling to get going as several sites for a downtown soccer stadium have been earmarked, but every plan has so far been rejected. With time ticking towards Miami's expected arrival in 2017, Becks still isn't any closer to finding a stadium site in downtown MIA. Tick, tock…
Montreal Impact
The Quebec side joined MLS in 2012 and after initially playing at the indoor Olympic Stadium in Montreal, they moved back to Stade Saputo following extensive renovation work. It now holds over 20,000 and is the second largest soccer specific stadium in Canada.
New York Red Bulls
2009: Giants Stadium was their home and despite the occasional large crowd (David Beckham's visit just after arriving in MLS sticks out) the venue was just too empty for MLS games to create a decent atmosphere.
2014: Opening in 2010, Red Bull Arena cost over $200 million to build in Harrison, NJ, and with a capacity of 25,000 it is in many ways the perfect soccer stadium for an MLS team. RBNY still struggle to fill the venue but it has everything you could possibly need. The infrastructure around the stadium is being worked on.
New York City FC
NYC FC will begin play in 2015 and they will call Yankee Stadium home. With the search for a soccer-specific stadium of their own ongoing, this temporary arrangement could last for a number of years. With huge crowds to see Premier League teams Chelsea, Liverpool and Manchester City in recent soccer games at Yankee Stadium, will NYC FC draw enough fans?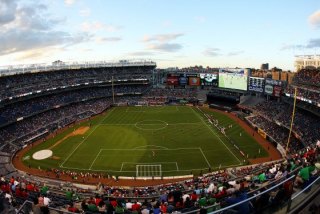 Orlando City
Will join MLS in 2015 and play their first season at the Citrus Bowl. Orlando have averaged crowds of over 10,000 while playing in the USL PRO over the past four seasons and plans for a downtown soccer stadium are being finalized. Construction on the $110 million stadium should be complete in time for the start of the 2016 MLS season, with a capacity of 19,500 expected.
Philadelphia Union
Joined MLS in 2010, originally played at Lincoln Financial Field until PPL Park was complete. Their own stadium is set down by the banks of the Delaware River with a stunning backdrop. Averaged over 17,000 fans per game in 2013.
Portland Timbers
The Timbers joined MLS in 2011 and with it came the redevelopment of Providence Park, previously known as the Civic Stadium. Portland have pumped almost $40 million into the venue and have created a historic feel with over 20,000 fans crammed in. One of the finest jewels in MLS' stadia crown.
San Jose Earthquakes
Currently still playing at Buck Shaw Stadium (they moved there in 2009) but construction on their new $80 million home is well underway and they should move in for the start of the 2015 MLS season. Wonderful news for San Jose.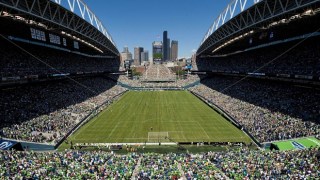 Seattle Sounders
2009: A huge appetite for soccer in the Emerald City led to the Sounders becoming an MLS franchise in 2009. Initially CenturyLink Field was capped at 33,000 for soccer games but it became apparent rather quickly that more seats were needed.
2014: They still share CenturyLink Field with the NFL's Seahawks and have the largest attendances in MLS. During 2014, their average crowd is 42,238 but crowds of over 60,000 for big rivalry games are commonplace. Remarkable.
Sporting Kansas City
2009: Played home games at CommunityAmerica Ballpark to crowds of around 10,000 after moving from Arrowhead Stadium where attendances were woeful.
2014: Sporting Park is one of the finest soccer stadiums in the country after the $210 million venue became SKC's home in 2011. The KC Cauldron fires the reigning MLS Cup champs up and with regular sellouts of 20,000, this is one of the biggest success stories in the new era of MLS stadiums.
Toronto FC
2009: At BMO Field since 2007, the largest soccer-specific stadium in MLS, TFC's fans packed the place as average attendances were over 20,000 for their first five years as a franchise. More seats were added in 2010 to take the capacity to over 22,000.
2014: On Sept. 23, 2014, ground was broken on the expansion of BMO Field to over 30,000. A second-tier will be added and an upgrade of several facilities will take place within the venue.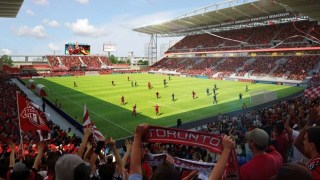 Vancouver Whitecaps
The Caps joined MLS in 2011 and started out by playing at a temporary stadium, Empire Field, with a capacity of over 27,000 while BC Place was being renovated. They share BC Place with the BC Lions of the Canadian Football League and the capacity is 55,000 but for MLS matches that is reduced to 21,000 with a temporary roof covering the upper tier to create an intimate atmosphere.