A nine-match weekend begins on Friday with New England paying a visit to Sporting KC and will see every team except FC Dallas — who beat Seattle on Wednesday — play once all is said and done. The Matchday features some desperate match-ups (Portland and Toronto) to go with some solid litmus tests (DC and Philadelphia). Let's dig in.
(Note: All rankings reflect this week's version of our MLS Power Rankings.)
Sporting KC (11) vs. New England Revolution (9), 8pm ET Friday
The Revs have won both of the previous meetings this season, and are looking to bounce back from its first loss since Aug. 2. Meanwhile, KC is hopeful that its thumping of Chivas USA is the springboard back to good times in the "City of Champions." Perhaps more surprisingly, New England can draw level on points for the No. 2 spot in the East before DC & KC tangle next week.
Toronto FC (17) vs. Portland (7), 1pm ET Saturday
You're looking at two teams that need this one dearly. Portland has been playing very well, and their dismissal of main playoff competitor Vancouver bodes well for them. But the Timbers are still just two points ahead of the Whitecaps, and this is the first of three extremely winnable contests (a pair with San Jose follows the TFC match). Meanwhile, a TFC win could re-muddle the race for the final playoff spots in the East and, with Jermain Defoe nearing a return, reinstill some confidence in the Reds locker room.
DC United (6) vs. Philadelphia (3), 3pm ET Saturday
If there was consternation with the changing of our Power Rankings guard, it likely had a lot to do with Philly's leap up the table and DC's slide down. The Union have lost just twice since the 4th of July, and that's including the home Open Cup final to Seattle last week. Meanwhile, United have just one win from their last five matches and didn't inspire loads of confidence despite scoring thrice last week in a 3-3 tie with Chicago. It's a great litmus test for both sides and would be out match of the weekend if not for this little test on Sunday.
[ MORE: Sporting KC, Portland dominated CCL ]
Seattle (5) vs. Chivas USA (19), 4pm ET Saturday
The Goats have one point from 11 matches since the last game of their 4-match winning streak on July 12. One point. From 11 matches. It's been hard to watch, especially with all the respected players like retiring Carlos Bocanegra on Chivas USA. Enter an angry, though perhaps tired, Seattle Sounders team that's had enough of the unbelief in their unit. Coming off losses to New York and Dallas, can Clint Dempsey and company find some love in a series they've dominated?
Vancouver (14) vs. Real Salt Lake (2), 7pm Saturday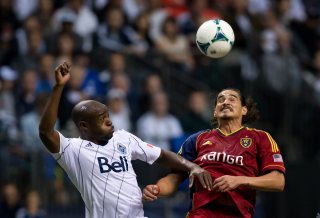 Oh, Carl Robinson. This was going so well! Vancouver had scraped together a ton of draws to squeeze into a playoff spot before a recent dry spell sapped their strength. Now, will they be reeling after Portland cruised in a massive match last week? Real Salt Lake will hope so as it looks to reestablish some consistency. Winners of two of three, RSL looks to put together its first back-to-back wins since mid-August.
Columbus (8) vs. Montreal (13), 730pm Saturday
Break up the Crew! Columbus has taken a point from five of six matches and moved into playoff positions with an impressive 1-0 win over New England. The bad news for Columbus is that this fixture isn't what it appeared even just a few weeks back, as the Impact have impressed in recent weeks. Plus Montreal is the only team to take all three points from Columbus since Aug. 9.
Colorado (18) vs. San Jose (16), 9pm Saturday
This is a tough one, with San Jose cooked and Colorado extremely well-dressed and marinating beside the grill. Colorado has conceded like mad while San Jose has had trouble scoring, with one goal in its last three matches. Chris Wondolowski's 13 goals are 10 more than anyone else on the Quakes (Yannick Djalo, Cordell Cato and Atiba Harris each have three).
[ MORE: MLS player of the week ]
Houston (12) vs. Chicago (15), 3pm Sunday
Neither is feeling like the playoffs are a true possibility, but one team will be absolutely out of it by the end of this one. The Dynamo have one loss since Aug. 10 and will be favored to take this one as well.
L.A. Galaxy (1) vs. New York Red Bulls (4), 830pm Sunday
Two of the hottest teams going bring massive star-power wattage to the weekend's final match, and it should be a beauty. The Galaxy are unbeaten in eight, with six wins, heading into this match-up with a Red Bulls team that has beaten Seattle, KC and DC in recent weeks. Who will be the difference maker? Robbie Keane? Thierry Henry? Red-hot BWP? Oh, how we wish this game kicked off in an hour.