In the big business world of the Premier League, it's easy to forget that the players have struggles off the field.
And while we've read plenty of reports on the ostentatious characteristics of Premier Leaguers lives, there are some horrible ordeals that affect players abilities on the pitch and even their availability for team selection.
The past year hasn't been kind to Aston Villa's Nicklas Helenius — now on loan at AaB — and former Newcastle United midfielder Jonas Gutierrez.
[ PREMIER LEAGUE: 10 things to watch this weekend ]
The 23-year-old Helenius made just three appearances for Villa last year after transferring from AaB and received plenty of guff for his lack of involvement in the team.
But he recently revealed a struggle with bacterial illness that had him fearing for his life and struggling with depression and an addition to sleeping pills. He lost almost 18 pounds and spent much of his time in the bathroom.
"It ruined me physically because the bacteria couldn't get out and I couldn't get the vitamins needed," explained Helenius.

"I thought I had a very serious disease or even cancer.

"I had very bad thoughts and was afraid of dying and those thoughts of dying were with me all the time.

"I was crying for help. I had to get through this and that's why I went back to Aalborg to feel comfortable in Denmark."

To help him sleep Helenius started taking pills and became reliant on them for around six weeks.

"I was addicted to them," he add. "I was almost like a drug addict, but there pills are not good for your body."
While Helenius is recovering and is expected back at Aston Villa for the final year of his contract next season, there's a player who won't get the chance to return to his club through no fault of his own.
Former Newcastle United veteran Jonas has been in the headlines after revealing his year-long battle with testicular cancer has become a battle in more parts of his body. After detecting the cancer and having surgery, Jonas returned to Newcastle to find there was no longer a place for him.
And he didn't take it well.
Gutierrez wanted to break the news himself of his fight against the illness – but it left question marks over his future when he failed to return for pre-season training.

When asked about his situation at Newcastle he said: "I don't want to say if they were good or bad, I can't judge.

"What I can say is that it hurt me very much when they told me to look for another team after that I had the surgery.

"I had been at the club for five years – that was tough."

Gutierrez has also spoken of his relief at going public on his fight with cancer.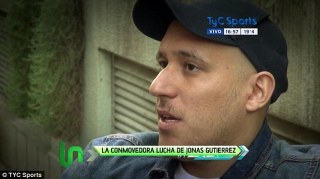 Jonas went on loan to Norwich City before revealing his cancer battle prior to this season. A beloved teammate, he's watched as plenty in the soccer community have supported him. From Papiss Cisse's goal celebrations to fans cheering during the 18th minute (his uniform number), Jonas has received some 'calm' from the tributes.
But it's hard to imagine what he went through privately last season — or at least away from the public eye — while Helenius was fighting similar demons.