Considering he was down a bevy of defenders and later a man, Manchester United manager Louis van Gaal is pretty happy with his team's performance in a 2-1 win over West Ham United at Old Trafford on Saturday.
Van Gaal was forced to choose a defending unit that gave a debut to 19-year-old Paddy McNair, and the youngster played alongside Luke Shaw, Marcos Rojo and Rafael. Tom Thorpe also made his PL debut with a very late substitution.
[ Match report: Manchester United 2-1 West Ham United ]
"Luke Shaw was always injured but now I could play with him for 90 minutes," Van Gaal said. "He had a little cramp and it was amazing he lasted 90 minutes. Also, Paddy McNair played a very good match and I'm very pleased for him that we won."
LVG seemed pleased on the whole that his Red Devils could pick up win No. 2 of the young season, especially considering Wayne Rooney played villain after playing hero. The captain and fifth-minute goal scorer took a silly red card in the 59th minute when he kicked out at Stewart Downing.
[VIDEO: Premier League highlights, here | Rooney's red ]
[RELATED: Latest Premier League standings]
Robin van Persie also scored for the Red Devils.
"I am very happy that we hold the result until the end because it is very difficult to play against a team who have one more player but who also play a lot of high balls," Van Gaal said. "I am very pleased with the attitude of my players."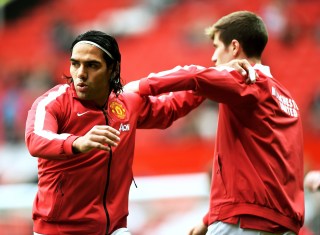 He also thought the goal West Ham did score, which seemed to find goalkeeper David De Gea quite out of position, featured a foul against the keep.
"We conceded again a goal from in set-plays. Maybe you can watch that their number 15 makes a foul on goalkeeper David De Gea."
That No. 15 is Diafra Sakho, who ended up scoring the goal.
Overall, van Gaal was pleased with the way his team looked.
"The win is very important, you can imagine that," Van Gaal said. "We played a very good first half with attractive football."