"THE INVINCIBLES" – CAN CHELSEA DOMINATE?
After breezing past Aston Villa on Saturday, Chelsea hardly got out of second gear. That's happened a lot so far this season.
Okay, so they haven't had to play too many of the top teams yet (only the 1-1 draw away at Manchester City last weekend was a big test) but the strength in-depth of Jose Mourinho's squad is mind-boggling.
Here's what the man himself had to say following Chelsea's fifth win out of six to start the season as his side are still unbeaten but he expects more to come, especially from his Brazilian contingent, in the coming months.
"I think everyone that came from the Brazil national team without a proper holiday and without a proper pre-season, not one of them arrived and had enough time in the pre-season to start the season in a very strong way. All of them, they are coming step by step. Oscar is the same. Now they are getting into the intensity of the game. Players, they need holidays. They don't have holidays. They need a proper pre-season, they don't have a proper pre-season."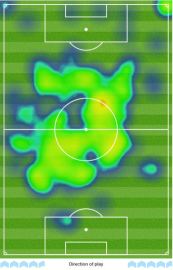 All three of Chelsea's scorers were Brazilian born on Saturday, Oscar, Willian and Diego Costa (who plays his international soccer for Spain) and with a strong midfield base protecting a back four which was hardly tested, Chelsea's creativity was allowed to flourish.
[RELATED: Full match replays]
If you look at the heat maps on the left and right, it shows how Nemanja Matic and Cesc Fabregas, playing in a deeper role against Villa, stuck to their task and locked down the center of the pitch, allowing Oscar, Willian and somewhat subdued Eden Hazard to push forward and supply Costa with chances to score. The deeper shade of red indicates the mean position of each player, with the balance superb as Matic sat just to the left and Fabregas to the right but slightly more advanced. Those two provide the Blues' attackers with the perfect base to launch attacks. Villa had one shot on target and barely threatened to score in the 3-0 defeat.
Looking at Mourinho's bench for Saturday, the strength of Chelsea's options in their 18-man squad is remarkable. New signing Felipe Luis continues to warm the bench, German World Cup winner Andre Schurrle isn't a regular, Loic Remy is a French international, Didier Drogba was an unused sub and John Obi Mikel came on for a cameo role. When you consider the fact that Ramires was out injured, Mohamed Salah wasn't in the 18 and you have Petr Cech as a back up for Thibaut Courtois, this is pretty ridiculous.
In the video above, NBC's analyst discuss whether or not Chelsea can match the famous Arsenal side of 2003-04 and go unbeaten throughout an entire Premier League season. So far, that's not as crazy as it sounds.
[VIDEO: Premier League highlights, here]
Last season, Chelsea were undefeated against the other top four Premier League teams as they beat champions Manchester City home and away, the same with Liverpool and hammered Arsenal at home before drawing away. The only reason they didn't win the league was because they lost to smaller teams such as Crystal Palace, Aston Villa and Sunderland when nobody expected it. After the first six games this season, they seem to have solved that issue of breaking down smaller teams who just want to defend. Diego Costa's eight goals in his first six PL games is a big reason for that but the sheer quality of attacking options Mourinho now possesses means he can switch things up and his team will not be weaker.
Can Chelsea go the whole 2014-15 season unbeaten? Ask me that question again in a month or so after they face Arsenal, Manchester United and Liverpool. Only then will we get a true reflection of just how good this Chelsea side is. Right now, they look like "invincible's" in waiting.
ROONEY'S RED CARD MADNESS
Petulant. Irresponsible. Mindless.
Those are some of the words used to analyze Wayne Rooney's straight red card for Manchester United on Saturday. With 30 minutes to go, Rooney decided to hack down Stewart Downing as the red mist once again descended on the Red Devils skipper. He put his team in a tough spot and they just managed to hold on to a 2-1 win against West Ham.
[RELATED: Should Rooney still captain United?]
Rooney has since apologized to his teammates for his red card, which now sees him out of action for the whole month of October and games against Everton, West Brom and Chelsea. This isn't the first time Rooney has been involved in an incident like this, and on Saturday I wrote this column asking if Louis van Gaal regrets his decision to name him United's captain and if the honor should go elsewhere?
[RELATED: Premier League stats]
The fact that Rooney is nearly 29, is the captain of United and English national team and has had previous experiences when it comes to losing his cool after a decision goes against him means that his actions on Saturday were inexcusable. Okay, everyone makes mistakes but to keep making the same ones time and time again, that just shows to me that Rooney hasn't curbed his temperament issues and in turn his leadership abilities and credentials to captain United should come under scrutiny. He is a fantastic player who will likely become the all-time leading scorer for United and England but incidents like this tarnish his reputation and will hurt his team until November 2 when he can get back out on the pitch again.
Time to head back to the studio for the final word on this, as the crew discuss how Rooney's red card will impact Manchester United in the next month while he is sat in the stands watching on.
Premier League Schedule – Week 6

DISAPPOINTING DERBIES?
Over the weekend two of the fiercest rivalries in the Premier League played out as the Merseyside and North London derbies commenced.
Have to say, I expected a little more.
Liverpool and Everton drew 1-1, as did Arsenal and Tottenham, with all four teams somewhat tentatively going about their business. True, it's early in the season to have a derby match but think of the impetus and confidence winning on Saturday would have given those squads?
[RELATED: Latest Premier League standings]
Liverpool totally outplayed Everton in the early game and Steven Gerrard's stunning free kick looked to give them all three points. However, just as their luck has been going so far this season, Liverpool conceded an injury time equalizer they could do nothing about.
In the 92nd minute the ball dropped 25-yards out to Phil Jagielka and the Everton center back hit a one in a million shot which he caught perfectly as it bent away from Simon Mignolet and into the top corner after grazing the crossbar. Everton, in truth, didn't deserve a point from this game but may look back on it as a turning point for Roberto Martinez's men. The Toffees have still won just one game this season, but Tim Howard's save from Mario Balotelli just after Gerrard had given Liverpool the lead was huge as they dug in for a point. Liverpool still look lackluster going forward and Daniel Sturridge can't return from injury quick enough. The struggles of Mario Balotelli and Lazar Markovic continue but Adam Lallana's performance was a bright spot as Brendan Rodgers' side were unlucky not to get a win.
As for the North London derby, this was a real midfield battle and all three of Arsenal's center mids were injured in a typically rambunctious affair at the Emirates. Aaron Ramsey and Mikel Arteta were both forced off in the first half with muscle injuries, while Jack Wilshere hobbled around. Spurs took the lead through Nacer Chadli and looked very solid throughout, however a sliced clearance from Erik Lamela lead to a chance for Arsenal and Alex Oxlade-Chamberlain equalized with 15 minutes to go. A draw was a fair result in a disjointed game which never got going. Arsenal are unbeaten but have now drawn four of their opening six games, as the cutting edge in attack was once again missing as Mesut Ozil and Danny Welbeck failed to recreate the form which saw them rip apart Villa last week.
Work to do for all four teams, as Derby Day was as intense as ever but the games themselves failed to churn out the pulsating drama they usually provide in abundance.
OUT OF THIS WORLD, THREE INCREDIBLE GOALS
Take a bow Phil Jagielka, Charlie Austin and Graziano Pelle. On Saturday in the Premier League, all three of those players scored goals which will probably be Goal of the Season contenders.
Watch the Saturday recap video below to see Austin and Pelle's incredible acrobatic efforts, plus Jagielka's long-range drive which broke the hearts of Liverpool fans across the world.
Incredible skill from all three players.
HIGH-FLYING SAINTS
Second in the Premier League. Six-straight wins in all competitions and three in the last seven days against Swansea, Arsenal and Queens Park Rangers, Southampton are surprising everyone. They beat QPR 2-1 for their fourth-straight PL win on Saturday and momentum is building down at St Mary's as they were tipped for relegation by many before the campaign.
Premier League Star Performers – Week 6
| Player | Reason |
| --- | --- |
| 1. Sadio Berahino (WBA) | 2 goals, England call up? |
| 2. David Silva (Man City) | Simpy stunning, tore Hull apart |
| 3. Graziano Pelle (Saints) | Incredible overhead kick, beast |
| 4. Jason Puncheon (Palace) | The Eagles' creative hub |
| 5. Tim Howard (Everton) | 2 crucial saves, superb |
How are they doing it?
More on that here, but their success is one of the stories of the season so far. New manager Ronald Koeman has come in and overseen a huge summer of transition which saw Adam Lallana, Luke Shaw, Dejan Lovren, Rickie Lambert and Calum Chambers all leave Saints for a total of $170 million in transfer fees. Saints received more money in transfer fees than any other club in Europe and they have spent it wisely on eight players and still made a huge $66 million net profit.
[RELATED: Premier League schedule]
Graziano Pelle, as you saw in the video above, is a phenomenal goalscorer, Dusan Tadic and Sadio Mane's creativity out wide tore Arsenal apart in the League Cup and did the same to QPR and the signing of England 'keeper Fraser Forster has given their impressive defense (the best in the league with just four goals conceded) a formidable anchor.
Simply put, we should be surprised and salute the coaching staff, directors and players at Southampton for their best-ever start to a Premier League campaign as they have 13 points from a possible 18 and are just three points behind leaders Chelsea. Yes, the fixture list has been kind to them but with positive momentum going into their clash away at Tottenham next week and the chance to show their former manager Mauricio Pochettino (who also walked out on them this summer) what he's missing, don't expect the rise of the Saints to end anytime soon.
With a stronger squad than this time last year, the Saints are alive and well and are in with a shout of bettering their eighth place finish from last season. A tough patch will arrive in December and January when they face Chelsea, Arsenal and Manchester United multiple times, but until then fans on the South Coast are enjoying Saints' unexpected early season dominance.
USMNT UPDATE – HOWARD STEALS THE SHOW
It's been an up and down start to the season for Tim Howard but he made some great saves for Everton in their Merseyside derby draw with Liverpool. A great stop from a Lallana header in the first half got Howard on his way, then he saved from Balotelli with an instinctive starfish spread from close range which tipped the ball onto the bar at a pivotal moment of the game. Elsewhere, Brad Guzan couldn't do much about Villa's 3-0 defeat to Chelsea, while Jozy Altidore was an unused sub for Sunderland. Better news comes from Stoke, as U.S. international Geoff Cameron is back in full training and is expected to challenge for a spot in the 18-man squad next Saturday at Sunderland.
Safe to say that Howard was happy to see Jagielka's howitzer hit the back of the net…
Premier League Playback comes out every Monday as PST's Editor and Lead Writer takes an alternative look at all the action from the weekend. Read the full archive, here.