While Bayern fans will be celebrating their team's Champions League win over CSKA Moscow, soccer stat nerds will be focusing on Munich's Bundesliga match this past weekend.
When Bayern Munich signed Xabi Alonso, they knew they were acquiring one of the best possession midfielders in the world. In his last match against FC Koln, Alonso put up a performance for the record books.
The Spanish international recorded 204 touches on the ball throughout the match, surpassing Thiago Alcantara's previous record of 177. The first man to reach 200 touches in a Bundesliga match, Alonso touched the ball approximately once every 26 seconds, an absolutely astonishing statistic.
[ RELATED: Xabi Alonso announces retirement from Spanish national team ]
Pep Guardiola has instilled his tactics of possession football on his Bayern squad, and few can possess as well as Alonso.
Bayern controlled nearly 80% of possession in the match, with Alonso completing 185 passes. That's more than the entire opposition COMBINED. Let that soak in. Yea.
From FourFourTwo's StatsZone, you can see how often possession goes through Alonso for Bayern. Red arrows represent incomplete passes, which were few and far between for the Spaniard against Koln.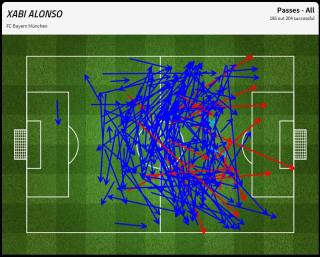 The graphic clearly illustrates Xabi Alonso's best talent, controlling the middle of the pitch while spraying the ball wide to his skill players. His ability to win a challenge in the midfield and play a ball 50 yards on the dot made him one of the most sought-after players over the summer transfer window.
Considering he's only been with the club for a month, don't be surprised if you hear a lot more about Xabi Alonso dominating in the Bundesliga.