There were flares, violence, graffiti and destruction in the visitors section of the Emirates Stadium as Arsenal tore up Galatasaray 4-1 in UEFA Champions League group play this week.
And, of course, UEFA is blaming the hosts.
Despite photographic evidence (below) to the contrary that begs the question, "What did you want them to do?", Arsenal will pay a decent-sized fine for the antics of Gala fans.
Presuming that Arsenal security didn't sit around encouraging fans and handing out flares, instead tossing out offending spectators, it feels a little rough to criticize the Gunners.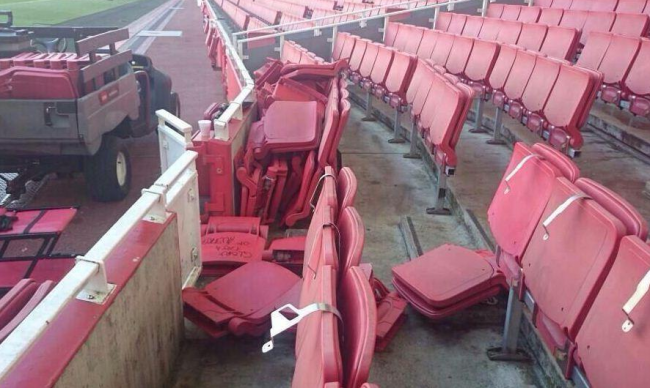 The Metropolitan police have also confirmed there were six arrests made before the match – two of which were fans attempting to enter the stadium with pyrotechnic materials.

The police have also confirmed that a flare was lit under a bridge near Finsbury Park before the game and then thrown outside the Tollington Arms pub in Hornsey Road.

However, it is Arsenal who will bear the brunt of the punishment after the Gala fans ransacked the Emirates, with UEFA due to charge the Gunners with "insufficient organisation" for their failure to control the rowdy visiting supporters.
Oh, I see: stadium security caught some people bringing in illegal wares, but not all of them. Perhaps I'm in the minority, but as we read more about these issues — see Feyenoord vs. Standard Liege, below — it's hard to tsk-tsk at teams. At some point, fans bear the responsibility, even in our increasingly-lawsuit-riddled world.