There's no question change takes time, but there's no excuse for how Thibaut Courtois was treated after suffering a clear head injury on Sunday against Arsenal.
If you missed it, the Chelsea goalkeeper took an Alexis Sanchez leg to the head and appeared woozy (at-best) after some time on the turf. New Premier League protocol says a player suspected of having a head injury has to be removed from the game.
[ RELATED: Courtois suffers head injury (video) | Head injury protocol ]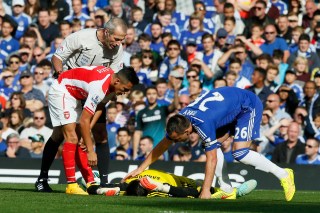 Yet Courtois was kept on for 20 minutes after the injury before blood coming from his ear forced him off the pitch, with Petr Cech replacing him. Courtois was taken to the hospital.
So many people failed Courtois in this case. First and foremost, there were the trainers, coaches and officials who blatantly ignored the new protocol. Keeping Courtois on the pitch endangered the goalkeeper, something any coach or parents has taken a single head safety class can tell you.
Even if you ignore what the rules say had to happen, allowing Courtois to keep playing was absurd. It's suggested that the human brain needs two weeks to heal from a brain injury. He had one. It's clear.
[ RELATED: Remember the World Cup final's first half? Concussed Kramer doesn't ]
Not to mention, Mr. Mourinho, that keeping a concussed goalkeeper in the game doesn't bode well for, you know, making saves and distributing the ball.
When a head injury isn't given the proper time and space to heal, the person is more likely to be hurt again (see: Pereira, Alvaro). It's like any other part of the human body, excepting the fact that the head is of utmost importance in daily life.
A British brain injury charity, Headway, had this to say (according to the BBC):
"The new rules introduced this season were designed to ensure no risks to players' health were taken," McCabe said in a statement. 

"They clearly state that, 'If there is any suspicion of the player having sustained a concussion, they must be removed from the field of play, and not allowed to return.'

"Bleeding from one or both ears is one of the symptoms that requires an immediate visit to hospital."
Take it from someone who has suffered several concussions and one case of long-lasting post-concussion syndrome: it isn't worth risking to "tough it out". My coaches and referees had the excuse of it taking place in the dark ages (the 1990s were a mess for head safety; Ask Pat LaFontaine and the Lindros family). Mourinho, the trainers and the officials don't have that out.
Especially the trainers. If their diagnosis missed all the obvious signs, the eventual blood coming out of Courtois ears shows they weren't acting in the best interest of the player.
Scary stuff. Sad stuff.