Cesc Fabregas has played with some of the greatest players of this generation.
He has played alongside the likes of Dennis Bergkamp, Thierry Henry and Lionel Messi. Is Eden Hazard the next great name on that list?
According to Fabregas, he is.
"Hazard has that incredible ability to unsettle the opposition. He is the link between midfield and attack for us; he is our Messi because he makes the difference."
Ok. So Fabregas didn't necessarily say Hazard was as talented as Messi, but it's high praise nonetheless. The comparison is true in that both Messi and Hazard are the focal points of their club's attack. Both can dribble, pass and score, as well as play multiple positions on the pitch.
[RELATED: Premier League stats]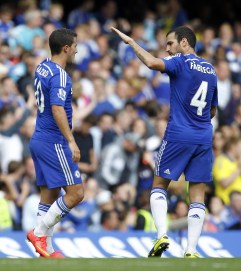 Hazard has been an absolute force for Chelsea this season and is one of the main reasons the Blues sit atop the Premier League table. His speed and creativity down the flanks have proven a nightmare for opposing defenses to cover, creating space and opportunities for his teammates.
Look no further than Chelsea's last match against Arsenal, a 2-0 win that cemented the Blues claim as the team to beat in the Premier League. Hazard opened the scoring for Chelsea when he made a brilliant run, blazing by two defenders before teasing by Laurent Koscielny, who had no choice but to take him down for a penalty.
Hazard then took his own penalty, coolly converting from the spot with a shot that oozed confidence.
[ WATCH: Hazard penalty lifts Chelsea over Arsenal ]
Last season Hazard was named the PFA Young Player of the Year while finishing second in voting for Player of the Year. Despite the honors and accolades, this season has the feel of a breakout year for the Belgian international.
Although Diego Costa leads the league in scoring with Fabregas tops in assists, it seems Eden Hazard is still the most important man on the pitch for Chelsea. Still only 23 years old, and he may be the most important man at Stamford Bridge for years to come.