The international break can be a great time for players to rest and recover from the physical demands of the Premier League.
Or, it is another opportunity for players to get injured.
Dejan Lovren has left his Croatian teammates to return to Liverpool for testing on an abdominal injury suffered in training. Crotia's FA released a statement claiming they found a tear in Lovren's abdominal muscle, but Liverpool doctors will do further testing when he returns.
[RELATED: Premier League schedule]
With Liverpool's next match ten days away, Reds fans will hope Lovren's is only a minor injury. After losing Daniel Sturridge and Joe Allen from injuries sustained on international duty already this season, I'm sure Brendan Rodgers isn't too pleased.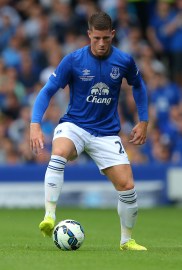 Across Stanley Park at Everton, the Toffees have found a bit of good news.
Ross Barkley is set to return to training next week after missing over a month of play with a knee injury. With Kevin Mirallas out with a hamstring problem, Barkley's return could prove massive for the Toffees.
[ RELATED: John Stones could miss eight weeks
Barkley featured in all three matches for England at the World Cup after having a breakout year at Everton last season. Still only 20, it is key for both Everton and England that the young midfielder stay healthy.
And in what seems to be a daily occurrence, another Arsenal player has picked up an injury.
[ RELATED: Mesut Ozil out 10-12 weeks with knee injury ]
Laurent Koscielny left training with the French national team with soreness in his Achilles tendon, but the Gunners are optimistic he will be fit for their Premier League match against Hull City in nine days.
Although the injury may not be severe, Arsenal must be extremely cautious with Koscielny as they can ill-afford to lose another player this early in their campaign.