Another day in the books of qualifying for Euro 2016. Here's how it went down.
GROUP A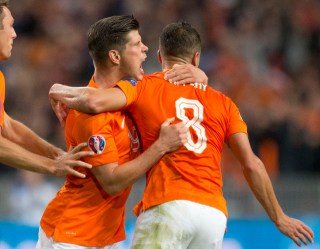 Turkey 1-2 Czech Republic
Umut Bulut scored early for the hosts, but the Czechs scored in the 15th and 58th minutes to put the visitors on top. Despite taking 7 more shots, Turkey fell for the second time and is last in the group.
Netherlands 3-1 Kazakhstan
A red card helped the Netherlands on their way back from an early deficit. Robin van Persie put the exclamation point on the win with a late PK, and the Dutch used a 30-3 advantage in shots to move past their group-opening loss to the Czechs.
Latvia 0-3 Iceland
Swansea City's Gylfi Sigurdsson was the first to strike after Latvia went down to 10-men in the 55th minute, and Strákarnir okkar didn't need much more than that as they rose top of the group on a plus-six goal differential
GROUP B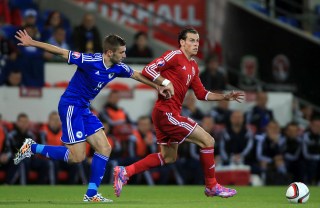 Belgium 6-0 Andorra
The Red Devils got their half-dozen goals in 38 minutes, beginning with Kevin De Bruyne's 30th minute penalty. He recorded a brace in four minutes, but Dries Mertens did him one better by scoring in the 65th and 68th minutes. Nacer Chadli and Divock Origi also scored in Belgium's first game of group play. Andorra fell to 0-2.
Cyprus 1-2 Israel
Austria Wien's Omer Damari and Maccabi Tel Aviv's Tal Ben Haim II netted in the first half as Israel won its first game of qualification, sending the Cypriots to their first loss.
Wales 0-0 Bosnia and Herzegovina
Twenty-seven shots yielded no goals in a game that saw Gareth Bale (above) on one side and Edin Dzeko on the other. Wales moves top of the group with four points, though Belgium and Israel have yet to lose a point.
GROUP H
Italy 2-1 Azerbaijan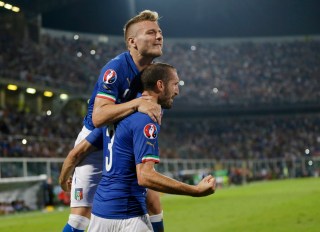 Giorgio Chiellini giveth, and Giorgio Chiellini taketh away. And then he giveth again! His 43rd minute goal was canceled out by an own goal in the 76th, and then he scored again when he headed Sebastian Giovinco's pass home six minutes later.
The defender managed it all without being bitten by anyone from Berti Vogts' squad.
Malta 0-3 Norway
Blackburn Rovers striker Joshua King scored twice while Cardiff City's Mats Moller Daehli also scored in a runaway road win. Fifteen-year-old Martin Odegaard did not play for the Norwegians.
Bulgaria 0-1 Croatia
An own-goal was all that separated the sides in a pretty drab affair that saw just two shots on goal. Two. In 90 minutes.