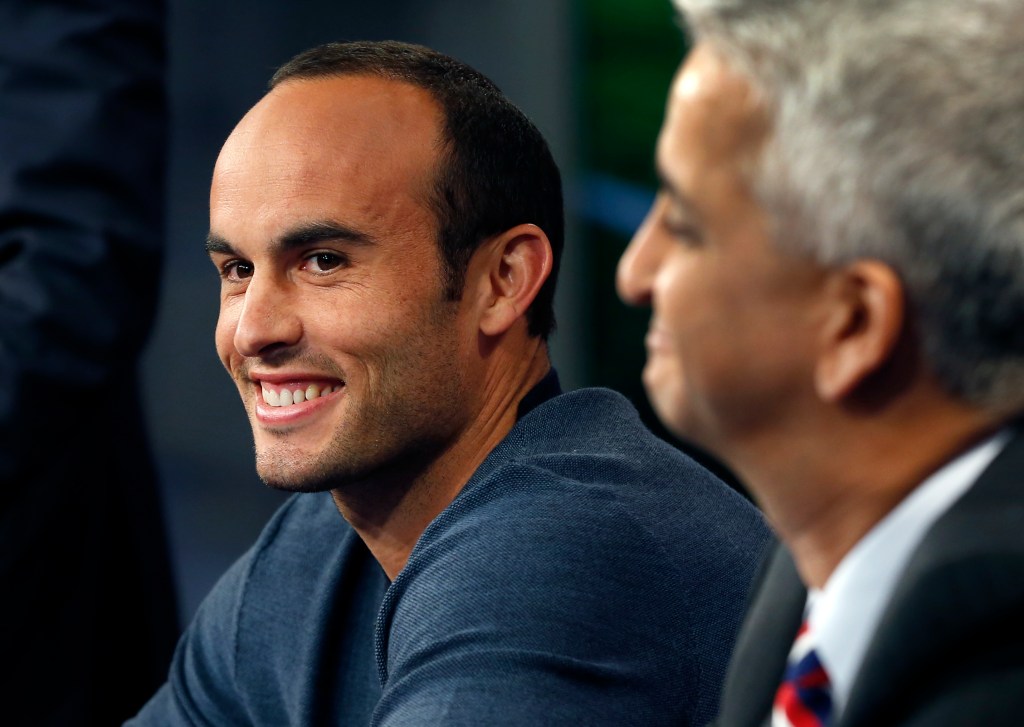 BRISTOL, Conn. – Sixteen years ago, then U-17 U.S. men's national team coach John Ellinger couldn't stop talking about a special player coming up through the ranks. He was gifted on and off the ball, had pace – oh, and he was only 15 years old.
U.S. Soccer president Sunil Gulati remembers that time well. It was when he first discovered Landon Donovan, who after Friday's game vs. Ecuador in East Hartford, Conn., will end his historic career with the United States.
"It's been a pretty extraordinary 16 years," Gulati said Friday.
But Friday brings the end of an era. Friday brings mixed emotion, as these sort of sendoffs always do. Friday is a celebration of what's been done, but also mourning of sorts of what no longer will be.
[MORE: Through it all, Donovan did things his way]
And as the otherwise very young group of players brought in by U.S. coach Jurgen Klinsmann exemplifies, U.S. Soccer now faces a question surrounding not so much of what, but who is next.
"Believe it or not, I don't spend a whole lot of time thinking about finding the next –" Donovan gets cut-off by Gulati. "I do!" the U.S. Soccer president says.
"But I do spend a lot of time thinking about, 'How do we develop real players?'" Donovan continues. "By real players I don't mean a guy who is scoring a hat trick or making an incredible save or playing well against a certain player in the world. I mean, 'How do we find guys that have 10- or 15-year careers that are meaningful to help the sport progress?'"
Gulati's job, along with Klinsmann's and the rest of U.S. Soccer's, is identifying and developing those types of players. Too often, Donovan says, you hear about a player for a year or two and people think that maybe he's the next 'it' guy, before he promptly drops off most radars.
"There have been other players along the way where people say, 'this could be the one,'" Gulati said. "Not the next Messi or Maradona or whatever, but it generally doesn't work out that way."
Is it 21-year-old DeAndre Yedlin – a Tottenham player-to-be – or 19-year-old Julian Green, now on loan at Hamburg? Both showed brief moments of promise at this year's World Cup. Could it be Joe Gyau, a 22-year-old Dortmund player who intrigued U.S. fans in his first senior U.S. cap last month?
It may not be any of them, nor anyone in this current camp, who build anything close to a career like Donovan's. Clint Dempsey can take claim to being the next biggest guy in the spotlight, but he is 31.
There won't be another Landon Donovan, but for U.S. Soccer to progress, there will need to be someone who can at least be similarly as successful as Donovan. That, as other countries have learned following the retirement of their stars, could take generations.
"That's going to take a long time," Gulati said. "But more high-quality players that can help us, impact players on the field – that's what we do every. Looking for those players, hoping to find those players."
Donovan suggested that the issues are as much cultural as they are technical or tactical.
"If you can produce a Messi, that helps. But I'll remind you that Messi doesn't go out and drink beer every night. He's at home preparing himself and doing the right things."
Donovan says he looks forward to not having to worry about tomorrows, and how basic life decisions might affect his play the next day (he calls it a "mental weight"). He isn't quite at the point of not having to worry about tomorrow – the LA Galaxy play on Sunday in Dallas – but he's close. On Friday, Donovan gets one more chance to do things right with the United States, in front of his family, his friends, and about 35,000 fans.