Poland and the Republic of Ireland are tied atop Group D after the White Eagles stunned Germany on Saturday afternoon in Warsaw.
The results was the biggest highlight of a fun day in Euro 2016 qualifying that saw an MLS star record a hat trick and both Armenia and Albania winning a point off more recognized sides.
[ MORE: Spain upset on Friday | Italy, Belgium win on Saturday ] 
Let's dig in.
GROUP D
Poland 2-0 Germany
History made at the National Stadium, as Germany lost its first qualifier in 33 outings. The last time was an October 2007 loss at home to the Czech Republic. This one was on the road, as Arkadiusz Milik and Sebastian Mila scored. Robert Lewandowski turned provider on the second tally, as Poland made a statement and Germany continued a World Cup hangover that saw them barely beat Scotland in the group's first round of matches.
Ireland 7-0 Gibraltar
Robbie Keane scored a hat trick in 18 minutes, rising up to 12th on the all-time list of international goal scorers. Gibraltar didn't expect much from their Euro qualifying campaign, and so far haven't been disappointed. Tough situation for any small nation.
"As you get older you appreciate that it's about the team more," Keane said. "When you're young, you are hungry and a lot more selfish. As you get older you appreciate the team and the team always comes first."
Scotland 1-0 Georgia
An own-goal was the only ball Georgia put on either frame in the loss to Gordon Strachan's Scots, who are level with Germany for third in the group.
GROUP F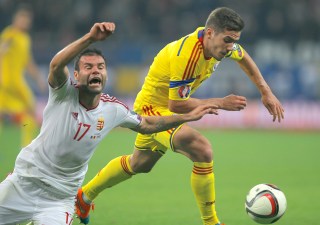 Romania 1-1 Hungary
An 82nd minute free kick goal from Balázs Dzsudzsák rescued a point for the Magical Magyars after Raul Rusescu put Romania up just before halftime.
Finland 1-1 Greece
Jarkko Hurme thrilled the home fans with a 55th minute equalizer after Nikos Karelis scored on debut for the Greeks.
Northern Ireland 2-0 Faroe Islands
First-half goals from Gareth McAuley and Kyle Lafferty were enough to push Northern Ireland past their minnow visitors. The Faroes are the only team left without a point in group play, while Northern Ireland is atop the group by two points.
GROUP I
Armenia 1-1 Serbia
Armenia coach Bernard Challandes said, "My players were like lions. At the beginning of the match, I would have settled for a draw, taking into account some absent players in my team, but now I am disappointed."
The Armenians struck for their hopeful upset in the 75th minute, but CSKA Moscow's Zoran Tosic found a late equalizer.
Albania 1-1 Denmark
Lasse Vibe's 81st minute tally put the kibosh on an Albanian upset bid, keeping the two nations tied atop the group. Portugal was idle in the five-team bundle of teams, and Serbia has played just one match.