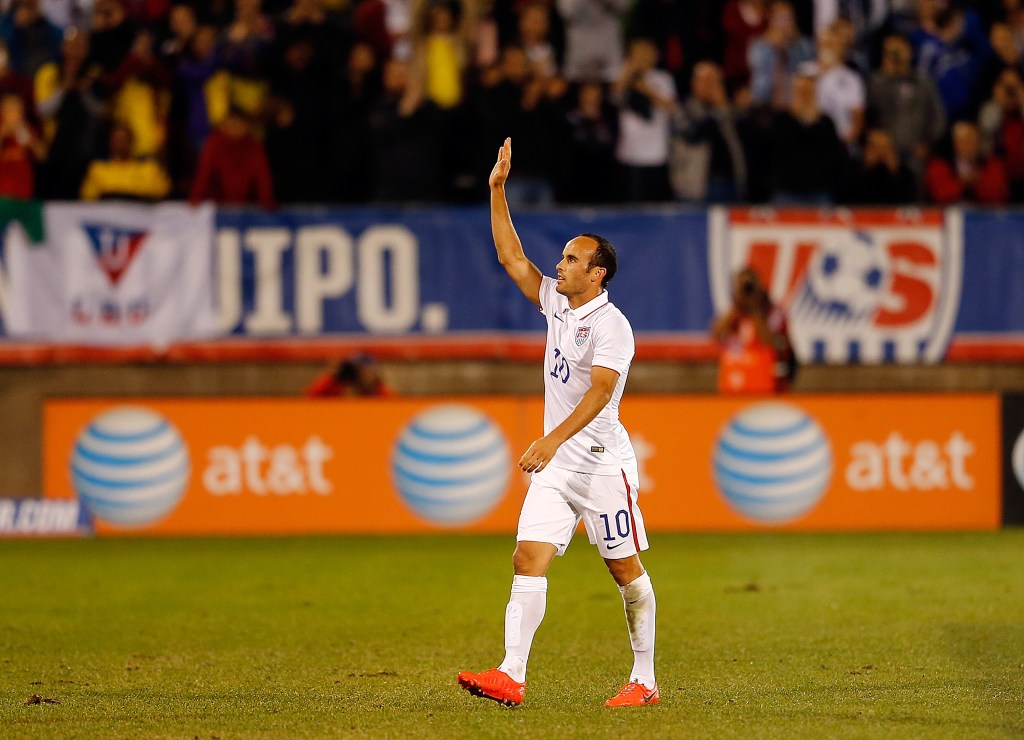 BRISTOL & EAST HARTFORD, Conn. – Landon Donovan had been through this thousands of times. The lights. The microphones. The cameras. The questions. Each press conference looks like the last.
But Donovan didn't know if this day would ever come.
Five months ago it would have been ludicrous to suggest that the United States' all-time leading goal-scorer wouldn't get a proper sendoff by the United States national team. And it would have been downright crazy to say he would not only be left off of the 2014 World Cup roster, but that he would soon thereafter announce his retirement.
But that's the path that brought Donovan to the middle of Connecticut on a cool October day – 10/10, of course, for No. 10 – for his final appearance in the red, white and blue. And the way it all went down – being cut by a coach, Jurgen Klinsmann, with whom Donovan's relationship is and has been rocky at best; the trolling tweet from Klinsmann's son and the less than praising comment in the media (even this week) – suddenly made this – one last go with the U.S. – all feel like the unthinkable.
"Three, four months ago if someone had said that this day would happen, I would have said you're crazy, you're out of your mind," the 32-year-old Donovan said early in the whirlwind day.
"I give all the credit to Sunil (Gulati, U.S. Soccer president) for sticking with me through some hard conversations, understanding what was important and making it happen. I believe this is a day that I deserve. I believe this is a day that my family deserves, for all the sacrifices they've made."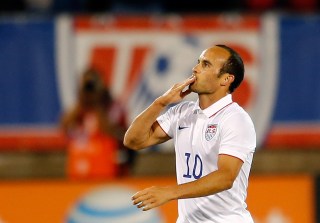 Donovan obviously came around on the idea, and throughout the emotional day he couldn't describe this ending as anything other than some sort of destiny, as strange as it may be.
Friday felt something like a rock-star promotional tour. It started with the big press conference at ESPN, where a pensive Donovan sat in a plain, longsleeve navy ringer shirt next to a suited-up Gulati. Then it continued on to Rentschler Field, where Donovan would play for the final time in front of over 35,000 fans.
He flew in only for the match and did not train with the U.S. at all this week. When his time came to exit the match in the 41st minute – a few minutes longer than planned, thanks to a good showing, Klinsmann said – he embraced a group of players he mostly never played with throughout his 14-year career, as well as Klinsmann. (Donovan cracked after the game that Klinsmann told him in that moment that he should've taken him to Brazil, causing an uproar of laughter. Klinsmann, in a separate press conference, said he understands Donovan's anger over being left off the World Cup team, but that the air was cleared earlier in the day.)
In a word, the whole setting was…strange.
"I'm not revealing anything here," Donovan starts, honest as always. "Obviously this summer was difficult. The thought of being in this environment again didn't seem all that appealing.
"But there are hard moments in life and there are difficult moments in life. I've been the beneficiary of mostly great moments in my soccer career. … This time it went against me and it was difficult for me. But at the end of the day I looked at the big picture and realized what a special day this would be for me. In many ways it's meant to be. The way it came together was beautiful."
[MORE: US, Ecuador draw  |  Player ratings  |   Complete coverage Donovan's finale]
It's no secret that Gulati was the technician of this whole tribute. He and Donovan go back to even before Donovan's days with the senior team. Gulati wanted "to say goodbye in the right way," he said earlier Friday at the press conference, and this was it.
Six hours later Mix Diskerud put the U.S. ahead in the 5th minute, on a play set up by Donovan down the left side. Four minutes later, Donovan nearly got on the board with an open header from 12 yards out that Ecuador goalkeeper Maximo Banguera parried wide.
And then came the 25th minute. Then came that perfect way to say goodbye: Donovan in behind, 1-v-1 with Banguera, after a Jozy Altidore backheel. Then came the chance Donovan so often converts. He beat Banguerea with a right-footed strike.
Dink.
Flush off the post.
"It would have been nice (to score), but that's OK. It wasn't meant to be," Donovan said afterward.
He got another chance in the 38th minute, turning deceptively at the midfield line and creating a give-and-go with Altidore. But Donovan didn't hit his right-footed effort cleanly, and it skipped wide from 18 yards out.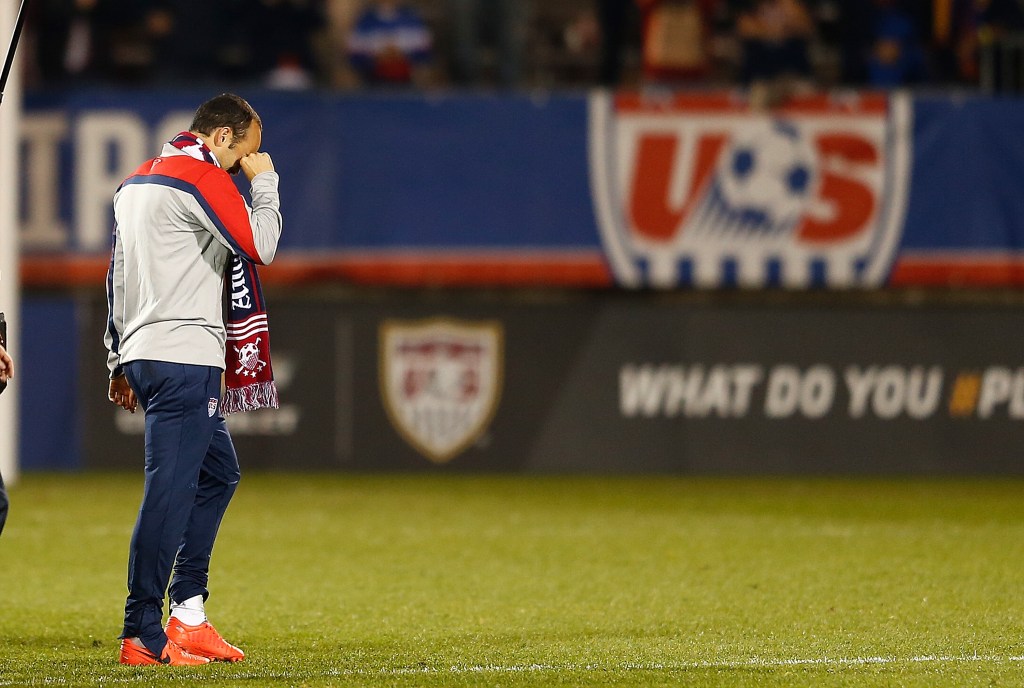 His record goal-scoring tally for the U.S. would remain at 57 goals, in his 157th and final international appearance.
The result was reduced to a 1-1 draw late, too, when World Cup standout Enner Valencia scored the equalizer for Ecuador in the 88th minute. But it didn't spoil the night for Donovan, who didn't get emotional until he stood on the field postgame and watched U.S. Soccer's tribute video to him on the big screen (Klinsmann was nowhere in sight).
Donovan followed that with a lap of honor around a then less than half-full stadium, with blue-backed club seats and bleachers that looked white in the glare of the lights. Those who skipped the postgame pomp and circumstance created a red ring of brake lights around the stadium, traffic which seen from above created a fitting trio of colors.
Donovan exchanged several minute-long group hugs with family members, and then admittedly out of character joined the still-full American Outlaws section to lead an "I believe" chant. Another moment that maybe wasn't in the cards, but one that maybe was just meant to be.
Donovan, speaking in his last postgame press conference as an active member of the U.S. national team, embraced it all.
"I think it was perfect the way it worked out."