The day after the night before. For the first time in almost 15 years, Landon Donovan is no longer a U.S. national team player.
[RELATED: LD hails perfect ending]
After playing his final game for the USA in their 1-1 draw with Ecuador in East Hartford on Friday, some lingering questions remain about Donovan.
Here's a look at some contrasting emotions LD may be feeling, as the all-time leading goalscorer and assist maker for the U.S. has made his 157th and final appearance for the Stars and Stripes.
RELIEF
The stress, strain and pressure Donovan has been under for many years has now dissipated. After being the poster boy for Major League Soccer and the U.S. national team for well over a decade, Donovan's work is done. He can feel great satisfaction in knowing that he has made huge difference in the sporting world in the United States. LD has played a pivotal role in putting soccer on the map in this nation and has been a terrific ambassador for the sport, and the American way, overseas. Our own Jeff Kassouf filed this piece from Rentschler Field on Friday night, observing that Donovan is now "at peace with a less then ideal ending to his USMNT career." In all his post-game interviews, plus the way he stood emotionally on the field at the end of the game and was serenaded by the American Outlaws, it seemed right. The relief seemed palpable from Donovan and he seemed at ease that all the sacrifices he has made over the years were worth something. From the millions of fans who grew up worshiping him, to the droves of young players in MLS today, everyone appreciates that without LD the current U.S. soccer landscape would be a lot different. His endless interviews, promotion of MLS and the USA in long trips across the country and overseas were all for the greater good. He will be relieved most of that petitioning is now over, but proud of it.
[MORE: US, Ecuador draw  |  Player ratings  |  Complete coverage Donovan's finale]
On the day of his final game for the USA, this Q&A was released by ESPN. In it Donovan revealed the level of depression he was feeling and how his self-imposed sabbatical helped him deal with it and fall back in love with soccer after struggling. When discussing his initial retirement plans, he spoke about getting away from the game for a while, travelling the world and not just seeing hotel rooms and soccer stadiums. With the MLS season still a month or so away from ending (if the LA Galaxy go deep in the postseason) Donovan seems to be ready for it all to be over. He can travel. He can switch off. Maybe one day he will return to coach soccer as Klinsmann and the USMNT have "left the door open" for him to return. At the age of 32, Donovan can reinvent himself and soccer may no longer define him. Relief. For now.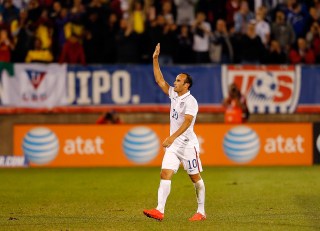 REGRET
As Donovan bared down on goal, a gasp occurred at Rentschler Field in the 25th minute. This was it. This was the storybook ending. Donovan drilled a toe-punt towards the bottom corner. Clunk. The ball ricocheted off the post and out. There was to be no fairytale finish. That's okay, if it's not meant to be, it's not meant to be. But, the overriding emotion going through my mind during his final 41 minutes in a USMNT jersey was that Donovan still had so much to offer to the soccer world. Especially the U.S. national team. With that shot that hit the post and one final effort which he dragged just wide before being substituted to a standing ovation, Donovan proved he still has the sharpness, ingenuity and ability to play at the highest level. At a World Cup, a Gold Cup or a Copa America for the USA. Look around at other national teams. David Beckham played until he was 35 for England. Andrea Pirlo is still playing for Italy at the age of 35. Zinedine Zidane was 34 when he led France to a World Cup final. Robbie Keane, 34, is banging in goals for fun for Ireland.
In less than four years time when the USA walk out at the 2018 World Cup in Russia (hopefully!) Donovan will be 35. Will he be looking on with regret thinking, 'what if I didn't retire… would I be at the World Cup?'
In my opinion, Donovan deserved to go out on the highest stage of all. He had one more major tournament left in him, which was likely the 2014 World Cup but after Jurgen Klinsmann left him off the USA's roster, the writing was on the wall. It's very likely that no matter what he did over the next three years in MLS, Donovan would not be going to the 2018 World Cup in Russia. His career with the USA was all but over. That fact, one which is still hard to grasp, most likely accelerated his decision to step away from soccer for good. Leaving MLS as the leading goalscorer and assist maker, Donovan has proved himself to everyone. But will he regret not sticking it out and fighting his way towards one more World Cup squad? Or was now the right time to call it quits?
We have to respect Donovan's decision and thank him for all he's done for soccer in the USA. The word legend gets used loosely in the soccer world, but this man is that, and more, to American soccer fans.