Attention all prognosticators, lend us your eyes.
With just two matches left for each team in Major League Soccer, the playoffs are very much in focus. While we entered this weekend thinking the races could go down to the wire, big wins by FC Dallas and DC United on Sunday made the crystal ball a fairly workable tool for even the laziest of calculators.
[ MORE: Vancouver keeps Cascadia Cup | Robbie Keane stars for Ireland ]
***
IN
West: L.A. Galaxy, Seattle Sounders, Real Salt Lake, FC Dallas
East: DC United, New England Revolution, New York Red Bulls, Sporting KC
OUT
West: Chivas USA, Colorado Rapids, San Jose Earthquakes
East: Houston Dynamo, Montreal Impact, Chicago Fire, Philadelphia Union
ON THE BUBBLE
West: Vancouver Whitecaps, Portland Timbers
East: Columbus Crew, Toronto FC
***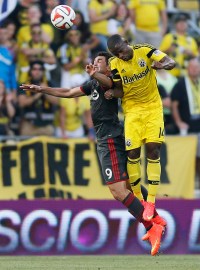 Let's begin with the fate of the Crew and TFC. It's simple here: a single point for Columbus lifts Gregg Berhalter's team into the postseason. A tie or loss for the reeling Reds boots Toronto out of the running.
Remaining games for Columbus: at New York (Sun) vs. Philadelphia (Oct. 26)
Remaining games for Toronto: vs. Montreal (Sat), at New England (Oct. 25)
It's happening, Toronto. You're missing the playoffs. It's unfortunate that MLS will not see Jermain Defoe, Michael Bradley nor Steven Caldwell in the postseason, but TFC did little to help itself. Given New York's desire to work its way up the ladder, I wouldn't be surprised to see it come down to the final weekend and if the teams finish tied on points, TFC would advance on greater number of wins.
But are you betting against Berhalter's unit if they need a single point at home to Philly? Even if they lose, do you think the Revs won't be running hot at home? CCSC to the postseason at the expense of its Trillium Cup rivals.
The way the West will be won is a lot more complicated. Vancouver has a one-point lead on Portland for the final slot, and a much easier duo of matches.
Remaining games for Vancouver: at San Jose (Sat), vs. Colorado (10pm ET Oct. 25)
Remaining games for Portland: vs. Real Salt Lake (Fri), at FC Dallas (830pm ET Oct. 25)
Both of the Timbers opponents will be duking it out for the No. 3 seed, and that last match comes in Frisco, where Dallas has won eight straight matches. Portland is 1W-1L against RSL and 0-1-1 against Dallas this season.
Meanwhile, Vancouver's opposition are dueling in another way: to see who can finish the year in worse shape, and the 'Caps have split fortunes against them. Vancouver is 2-0 against San Jose and 0-2 against Colorado.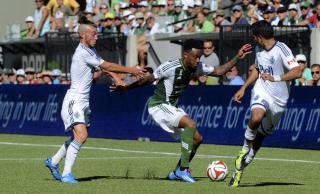 If the two clubs finish tied, Portland holds a significant advantage at this point:
On 49 points: goal differential (PDX currently +6 better)
On 48 points: Portland advances on greater number of wins
On 47 points: goal differential
On 46 points: goal differential
Our guess? Vancouver.
What do you think?