Oh, there were candidates, but could any of them top the Roman when it came down to it?
Marco Di Vaio's classy brace in his penultimate home match for the Montreal Impact was splendid and emblematic of the player who's become a hero in Montreal.
[ RELATED: MLS to include fan faces on jerseys? ]
But would it be enough to edge out an outstanding defender, flashy midfielder and engine room spark plug for the honor of PST's Major League Soccer player of the week?
Your nominees
The defenders: Matt Hedges was terrific for FC Dallas. The hard-edged, big Rochester native earned his living against the Galaxy to help ensure the club's eighth-straight home win. And it just may surprise you how good he's been in the advanced stats metrics provided by Squawka, as he's sandwiched between two very recognizable names.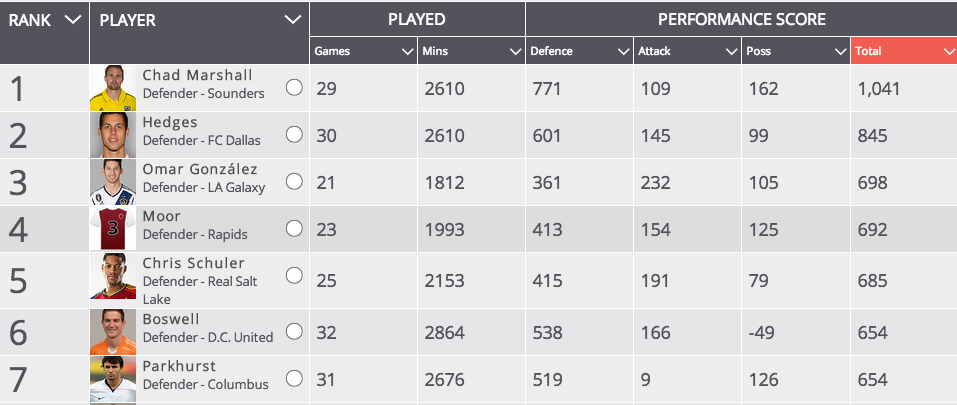 For the record, it's remarkable that Hedges was barely the best back-line force over the weekend, and Vancouver's Kendall Waston was instrumental in the 'Caps pulling off the Cascadia Cup road win over Seattle.
The midfielders: Diego Valeri continues to amaze for the Timbers, and the Argentine midfielder's latest brace came at a great time as Portland finished off two wins in two games against San Jose. He consistently provides both flash and substance for Portland.
But as good as Valeri was, Justin Meram might've topped him. Meram rattled a shot off the crossbar and was a dominating presence well before he stumbled onto a loose ball in the Crew's lightning-quick comeback to beat Philadelphia. Bananas, I say:
The winner: Try as they might, though, neither of those four were able to bring the fire the way Marco Di Vaio did against a strong New England team. Di Vaio's intelligent runs were matched by clinical shooting as the retiring Montreal star again made a big impact in Quebec.
The 12th minute brought a long diagonal ball to Di Vaio, and the striker smoked it into the goal. He proved yet again it wasn't simply power that get him goals in the XXth minute when he got on the end of another diagonal ball and rolled it home.
He finished the game with five shots, three on goal and PST's MLS player of the week award.