Yeah, Jurgen Klinsmann was tinkering around with his lineup during this week's friendlies against Ecuador and Honduras, but color us a little non-plussed by the way the USMNT looked in 1-1 draws against fellow World Cup squads from the Western Hemisphere.
There were certainly bright spots from Tuesday's stalemate with Los Catrachos, but plenty to grimace about as well. With Jermaine Jones playing center back and Mix Diskerud at the bottom of the midfield diamond, there's plenty to discuss.
[ GAME STORIES: USMNT 1-1 Honduras | USMNT 1-1 Ecuador ]
What worked? What didn't? Read on…
Stars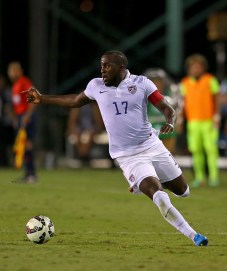 1. Jozy Altidore – Sure his goal came early, the 10th minute, and he didn't find another, but it's the way that he scored that has us hoping to see him more for Sunderland. Much like his goal against Nigeria in the run up to the World Cup, Altidore chest-trapped a great ball, made his way into a trouble zone and ripped the ball into the net. It's just one more time to daydream about what could've happened if he stayed healthy in Brazil.
Before we go any further, it isn't easy to find too many folks to label as stars from this one, as nearly every player had plenty of negative moments to go with the positives. So apologies to Mix Diskerud, Greg Garza and Michael Bradley as we say…
2. Alejandro Bedoya – With the hustle and grind of a blue-collar mine worker, the Nantes winger flew up and down the flanks all night in Boca Raton. Yes, his best moment came when he had to race the length of the pitch to make up for a giveaway, but Bedoya was an overall bright spot in the tie.
3. Jermaine Jones – His first 90 minutes at center back in who-kn0ws-how-long wasn't without its share of bumps and bruises — especially to Romell Quioto's knee on the kick that earned Jones a yellow card — but Jones was a menace playing out of position. There's a lot of danger to the idea of playing the hair-trigger man at center back, and he certainly lost the jumpball to Maynor Figueroa on the equalizer, but overall he bailed out his teammates a bunch.
Gripes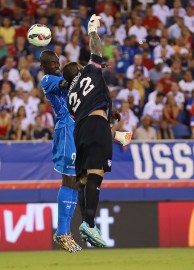 1. Nick Rimando – Looked uncomfortable all night, nothing like the man who bailed the States out time and again against the Czech Republic in September. The goal certainly was not his fault, but his passing was suspect and his movement inside the six was hesitant. He's much better than Tuesday's performance.
2. Graham Zusi – Known for his dynamic crossing, Zusi seemed to fight the ball. The Sporting KC man didn't bring a lot of danger to the game, and he's not the sort of guy who helps the team win when going unnoticed.
3. Joe Corona – Maybe it's harsh for a man who was only the pitch for about 14 minutes, but Corona's free kick to end the game was awful. Either put a hard shot near the net or pass the ball into the fray. Don't airmail a danger-free cross into the seats.