Cool story out of Spain today where Sid Lowe of The Guardian reports that Lionel Messi was first signed by Barcelona on a napkin.
It was September 2000 and 13-year-old Messi arrived in Barcelona with his father, Jorge, and his agent, Fabián Soldini, for a trial that had been set up by Horacio Gaggioli and Josep Maria Minguella, the man who had brought Maradona to Barcelona 20 years earlier.
After showing well in training, Messi, not yet even five feet tall, was put into match so the technical secretary, Charly Rexach, could see him play. "After two minutes, I knew," Rexach says. "We have to sign this kid right now."
But signing Messi was no easy deal. Barcelona needed to pay for daily hormone injections into Messi's legs that cost $1,000 per month, to find work for his father and to pay him $60,000 a year for his son's services. As the signing delayed, Messi's father grew upset. "His dad was getting angry and said Leo was leaving," Rexach told the sports daily AS. So on December 14, 2000 Minguella and Gaggioli met with Rexach at the Pompeia tennis club where the latter pulled out a napkin and wrote:
"I, Charly Rexach, in my capacity as technical secretary for FC Barcelona, and despite the existence of some opinions against it, commit to signing Lionel Messi as long as the conditions agreed are met."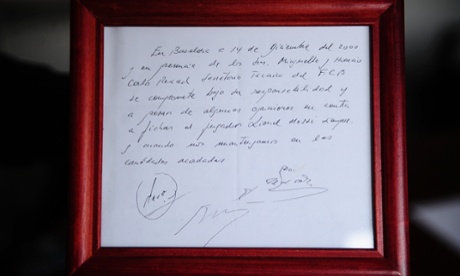 Despite calls to put the napkin in Barcelona's museum, Gaggioli still keeps it in his possession.
Hold on tight, my friend.
Follow @mprindi