When you first heard or read Don Garber's riposte to Jurgen Klinsmann on Thursday, admit it, you were a little bit gobsmacked.
It's okay, most people were.
In the hours which have passed since, everyone is still picking up the pieces from one of the biggest damnation's in U.S. soccer history.
[RELATED: Garber slams Klinsmann's comments]
Within moments "Garber" was trending on Twitter as the Commissioner of Major League Soccer questioned the head coach of the U.S. national team and came out all guns blazing to defend the league he has helped nurture and flourish over the past 15 years.
In case you missed what started all this, during the USA's recent international break Klinsmann called out Clint Dempsey Michael Bradley publicly and insisted his players back in MLS "must do better." Klinsmann suggested that promotion and relegation could be a good move forward for the U.S. soccer pyramid and claimed that the current level of play in MLS was holding some of his players back.
Garber issued a conference call, then issued the following damning comments about the head coach of the USMNT:
"Jurgen's comments are very, very detrimental to our league. They're detrimental to the sport of soccer in America and everything we're trying do north of the border. And not only are they detrimental, I think they're wrong."

"Sending a negative message to any player that signing with Major League Soccer is not going to be good for their career or good for their form, is incredibly detrimental to Major League Soccer. When we have a national team coach who in essence is telling players when they sign with our league that it is not going to be good for their career – and not going to be perceived well by the national team coach who is selecting the US national team – that is incredibly damaging to our league."

"[Klinsmann] has done a great job with the national team, but he needs to think very, very hard about how he manages himself publicly, and how he should motivate players that are playing in our league."
In retrospect, perhaps Garber airing the dirty laundry of MLS and U.S. soccer out in public (including how the treatment of Landon Donovan was "inexcusable" by Klinsmann) wasn't the best idea. It certainly didn't show either figure in their best light. However, some good may come out of this.
[RELATED: Klinsmann says Bradley has to prove his MLS move wasn't a step back]
Both Garber and Klinsmann are incredibly influential men for the future of soccer in the United States of America. I believe both have the same goal: to improve the stature of the game in the USA, both globally and domestically.
Here comes the kicker: Garber wants to do it through MLS, Klinsmann wants to do it through the USMNT. What this public falling out may do is help galvanize U.S. soccer and MLS and force them to work together closer than ever before to solve this differences.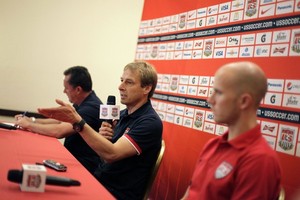 Many may think Garber's comments were rash, too strong or slightly strange, but he is making it public knowledge that we are at a pretty pivotal point in MLS' future. With more clubs coming on board (Orlando, Miami, Atlanta, New York City FC and more in the next three to four years) the league is growing exponentially and it could be a big gamble. With U.S. soccer on board, MLS can go from strength to strength but Klinsmann's latest comments seem to suggest he is sending out quite the opposite message to players either in MLS, or overseas.
We have seen a huge number of USMNT players return to MLS in recent months with Dempsey, Bradley, Jermaine Jones, Clarence Goodson, and Michael Parkhurst to name a few, plus the likes of Graham Zusi and Matt Besler turning down moves abroad to help MLS grow. But Klinsmann's comments will make other U.S. players think twice before signing in MLS, or staying there.
[RELATED: Media, fans react to Garber's comments]
Garber spoke about his close relationship with U.S. soccer president Sunil Gulati in the conference call and as a director of U.S. Soccer himself, Garber is, obviously, heavily invested in the success of the U.S. national team. If these comments from Garber get him, Gulati and Klinsmann in the same room sometime soon to discuss their issues, work them out and try to work in unison moving forward, then it was all worth it.
The big worry is that as long as Klinsmann is in charge of the USMNT, a divide will continue to grow between the national team and MLS. Middle ground needs to be reached, rapidly, but now we know where both parties stand. Everything is out in the open and how things move forward can now be closely monitored. Both sides will want to resolve this 'dispute' amicably but it will take plenty of willing to negotiate as topics such a promotion and relegation aren't things you discuss lightly.
For me, the fact that we are talking about these issues suggests that both Klinsmann and Garber should be applauded for their leadership, direction and guts. In the aim of making soccer in the USA better, both domestically and on the international level, they are standing up for what they believe in. Rightly or wrongly, this is a key discussion to be having as new ideas need to be implemented and boundaries still need to be pushed in U.S. soccer circles for it to reach its true potential. These type of issues need to be discussed. Right here, right now.
If Garber and Klinsmann can now come together and mesh their ideas, work as one and put their difference of opinion aside, soccer across the USA will benefit. Despite the disparaging comments from both sides, plenty of good can come from this.