Catch up on all of this weekend's action from Spain and Italy's top flights.
La Liga
Levante 0-5 Real Madrid
Any time Los Blancos take the pitch, you can pretty much guarantee a goal (or more) from Cristiano Ronaldo. Against a struggling Levante side, Ronaldo scored twice, raising his mark to 15 goals in eight games, a La Liga record. As a team Real has found the net 30 times, meaning Ronaldo has accounted for 50% of Madrid's goals.
Barcelona 3-0 Eibar
Barca remain undefeated and un-scored upon in La Liga play with a 3-0 win over Eibar. Xavi, Neymar and Lionel Messi all scored in a 15-minute span to earn three points for Barcelona. With his goal, Messi is one-mark shy of tying the La Liga goal scoring record of 251, set by Telmo Zarra in the 1940s.
[ RELATED: Ronaldo's form 'impossible' | Messi nears goals record ]
Atletico Madrid 2-0 Espanyol
Diego Simeone's side have not lost at home in 24 La Liga matches as the defending champions downed Espanyol. Although not the prettiest match for Atletico, they remain in the top-five on the table, five points behind leaders Barcelona.
Around La Liga
Granada 0-1 Rayo
Athletic 1-1 Celta Vigo
Cordoba 1-2 Malaga
Elche 0-2 Sevilla
Deportivo 3-0 Valencia
Villarreal 2-0 Almeria
Serie A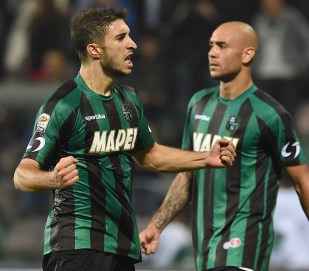 Sassuolo 1-1 Juventus
Juventus dropped their first points of the season with a disappointing 1-1 draw with Sassuolo, who have yet to win a match and sit in 19th place in Serie A. Sassuolo opened the scoring in the 13th minute to shock Juventus, who needed a Paul Pogba equalizer to avoid an embarrassing defeat.
Inter Milan 2-2 Napoli
A wild finish at the San Siro saw all four goals scored in the final eleven minutes, including a stoppage time equalizer from Hernanes to earn a draw for Inter. However thrilling, Inter still have some figuring out to do with one win in their last five matches.
Verona 1-3 Milan
A brace from Keisuke Honda and an ugly own goal helped lead Milan into fourth place in Serie A with a win away from home. The two goals from Honda move him into a tie with Carlos Teves and Jose Maria Callejon for the league's top scorer.
Around Serie A:
Roma 3-0 Chievo
Fiorentina 0-2 Lazio
Torino 1-0 Udinese
Palermo 2-1 Cesena
Atalanta 1-0 Parma
Cagliari 2-2 Sampdoria