Don't adjust your tables: Bundesliga has not docked Borussia Dortmund any points and the UEFA Champions League side is just one point above the bottom three.
That's because BVB dropped a 1-0 decision to Hiroshi Kiyotake's 61st minute goal, with Hannover climbing to 7th and pushing the struggling powers down to 15th.
[ MORE: Real takes season's 1st Clasico | Man City upset by West Ham ]
Dortmund outshot Hannover 17-7, but couldn't find the ball to beat German international keeper Ron-Robert Zeiler.
It's just one of several games whetting the appetite for a massive top of table Sunday tilt between Bayern Munich and Borussia Monchengladbach.
Hertha Berlin 3-0 Hamburger SV
What could've been a more fun match for American fans instead found both John Anthony Brooks (Hertha) and Julian Green (Hamburg) out of the Starting XI. Both came on as subs, with Green joining in the 65th minute with his side down two. Brooks subbed on in the 84th minute, just before Hertha scored its final goal. The visitors are now in 16th place, while Hertha moves further free of the bottom three.
Eintracht Frankfurt 4-5 Stuttgart
Goals, goals everywhere but not a word from unused American defender Timothy Chandler. Just check this box score: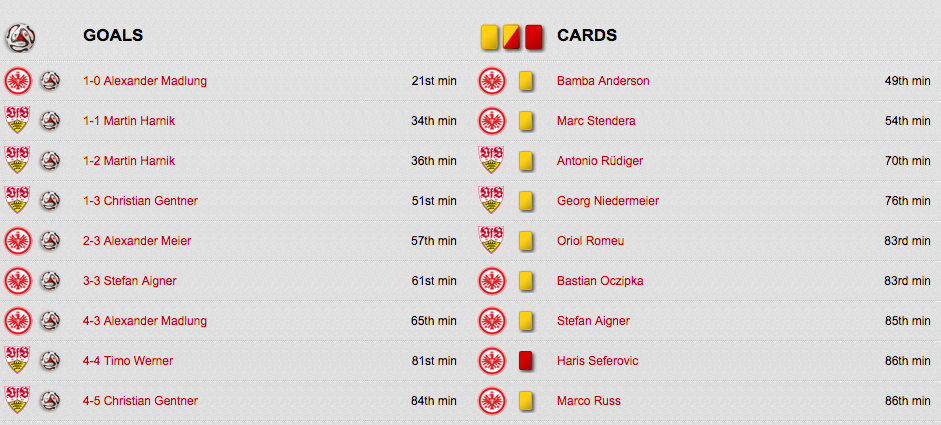 The visitors showed great mettle after blowing an early lead to go up 3, then coming back again from a 4-3 deficit in the final 10 minutes. The win gives Stuttgart a bit of breathing room from the relegation zone and keeps Frankfurt from making a run up the table.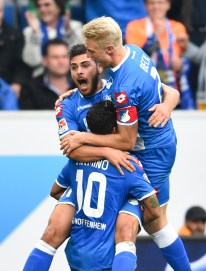 Elsewhere

Werder Bremen 0-1 FC Koln — Nigeria striker Anthony Ujah scores early, and it was enough to keep the hosts both winless and at the bottom of the league.
Augsburg 2-0 Freiberg — Goals in each half, one from Paul Verhaegh and the second from Halil Altintop, sink the still winless visitors.
Hoffenheim 1-0 Paderborn — 22-year-old Kevin Volland (right) returns to his goal-scoring form of last season at a great time, breaking his season duck with a winner.
Wolfsburg vs. Mainz — 1030am ET Sunday
Monchengladbach vs. Bayern Munich — 1230pm ET Sunday