MANCHESTER UNITED GIVE REST OF THE PREMIER LEAGUE HOPE
They may not have beaten Chelsea on Sunday, but Manchester United gave the rest of the Premier League hope that the Blues can be stopped this season.
One of the main topics of discussion this campaign has been about Chelsea going the entire season unbeaten and whether or not it's possible for them to match Arsenal's "invincible's" from 2003-04. They're still unbeaten through nine games but were handed their toughest test yet at Old Trafford. Without Diego Costa, Chelsea looked less vibrant in attack, however it was the stranglehold United had on Cesc Fabregas which helped United hold Chelsea back and allowed Robin van Persie to snatch a late point, much to the delight of over 70,000 home fans at Old Trafford.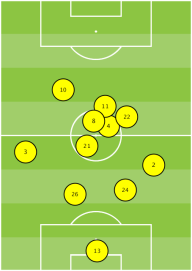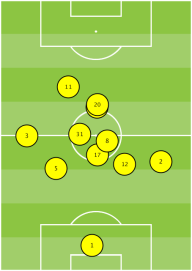 Fabregas was subdued throughout, as Marouane Fellaini and Juan Mata pushed high and forced Chelsea's main man to play deeper than he usually does. Daley Blind blocked the forward lanes for Fabregas to pass or run into, and in the first half United's gameplan worked superbly. Fabregas was constantly caught in two minds as Fellaini and Mata would drop deep to support Blind, then push high to support van Persie and become unmarked. Fabregas was unsure whether to drop deep and pick up United's midfielders, or push high on Blind who often picked up the ball unmarked in the holding role. Chelsea's main man didn't get a kick.
[RELATED: Watch full match replays]
Look at the average positions of Chelsea's players, left, and United's, right, to see how Fabregas was caught in two minds with Mata and Fellaini pushed up high intentionally by Louis van Gaal. Nemanja Matic was left marking two men and did the job admirably for Chelsea in the engine room, but nullifying Fabregas was the key for United.
Chelsea were better in the second half, but Fabregas couldn't dictate the tempo of the match from the middle. In the 53rd minute he did deliver the corner which Didier Drogba headed home to put Chelsea 1-0 up, but the Spanish playmaker had perhaps his quietest day yet in a Chelsea shirt as van Gaal's plan work a treat. After the game United's boss demanded more from his charges, saying that this wasn't their best performance and that his side should have won.
"I've said to the players we could have won but nevertheless we didn't and that's our fault," Van Gaal said. "When you can do that against the best team in this league at this moment it is a good sign. I'm not pleased as I still have the feeling we could have won today and that we don't take our opportunities at the moment."
[VIDEO: Premier League highlights]
Still, it seems like United are heading in the right direction and a morale boosting point will do them the world of good ahead of the Manchester derby. Chelsea, who are still four points clear at the top despite coughing up a late equalizer, lacked that killer instinct which they've possessed for most of the season and failed to finish United off when they had them on the ropes for 15 minutes after going 1-0 up. That was likely due to the absence of Costa, who has scored nine goals in seven PL appearances so far.
The Spanish international has now missed Chelsea's last two PL games with his hamstring issues flaring up and, according to our very own Neil Ashton, Costa could be having surgery very soon. See the video below for more details, as Chelsea suddenly don't seem as "invincible" as they did earlier in the season.
Premier League Schedule – Week 9

THE UNLIKELY LADS – WEST HAM, SOUTHAMPTON
Heading into the final few days of October, the top four of the PL has a slightly unfamiliar look to it. Southampton are in second and West Ham are fourth after both teams kept their impressive form going with wins at the weekend.
The Saints have been the big surprise story of the season so far, as Ronald Koeman's men have stormed to six wins from nine. With a bunch of shrewd signings adding to a strong core which remained following the summer exodus at St Mary's, it's safe to say relegation will not be on the agenda on the South Coast this season.
[RELATED: Latest Premier League standings]
However, not to put a dampener on things, it is worth pointing out that Southampton have lost to both Liverpool and Tottenham away from home and have beaten teams they should really handle. Anyway, a fine start regardless.
As for the Hammers, their fans are in dreamland as the attacking soccer they've been craving has finally arrived. Yes, they were pretty lucky against title chasing Manchester City but you make your own luck in this game as City rattled the woodwork twice and Adrian had a fine game in goal. West Ham were rewarded for going at City with Diafra Sakho and Enner Valencia in fine form. The summer signing have added pace, power and purpose to the Hammers attack as the likes of Andy Carroll and Kevin Nolan find themselves on the outside looking in. West Ham have now taken down Liverpool and Man City at home and Upton Park is becoming a fortress.
It is also becoming a place where actor Russell Brand frequents and he was delighted to see his Hammers down the reigning Premier League champions. So much so, he gave Hammers boss Sam Allardyce a big smooch during his postmatch press conference.
Allardyce has seen his team win four of their last five and they have remained solid at the back but more attractive in attack. A top four finish for both these teams is highly unlikely, but pushing for a top six finish would be a fantastic season. Both Saints and the Hammers have given themselves a great platform to build from. Now, can they kick on?
See the video below for highlights of all the action on Saturday.
SHOULD WE BE CONCERNED ABOUT SPURS?
Tottenham lost to Newcastle 2-1 at White Hart Lane on Sunday, as Spurs' horrendous form following Europa League matches continues.
Mauricio Pochettino's men took the lead through Emmanuel Adebayor's header, but second half goals from Sammy Ameobi and Ayoze Perez gave the Magpies a second win on the spin and had Tottenham's boss questioning the mental strength of his players.
Premier League Star Performers – Week 9
| Player | Reason |
| --- | --- |
| 1. Alex Song (West Ham) | Dominated the game from CM |
| 2. Alexis Sanchez (Arsenal) | 2 goals, oozes class |
| 3. Wilfried Bony (Swansea) | 2 goals, cool as a cucumber |
| 4. Sadio Mane (Saints) | 1 goal, constant pest out wide |
| 5. David De Gea (Man Utd) | 2 great saves, solid as a rock |
"We need to speak, we need to create a different situation on the training ground and work," Pochettino said. "We know how but, always, you need to spend time to work in this area. It is not the same as in physical or tactical situations. It is a different area."
As you can see from the stat below, 60 percent of Spurs' PL losses in the past two seasons have come directly after a Europa League match. That would suggest that Tottenham have a small squad and are struggling to keep everyone fit. Not so much.
Pochettino has talented players to work with but after the up and downs of last season under Andre Villas-Boas and Tim Sherwood, Spurs seem to be lacking mental toughness. Pochettino has a big job on his hands to turn his team into top four contenders.
USMNT UPDATE
Geoff Cameron started his first Premier League game of the season on Saturday against Southampton, and the Bostonian went the full 90 minutes in central midfield for Stoke as the Potters lost 1-0 to Southampton. Although the result wasn't positive, it is certainly encouraging to see the former Houston Dynamo standout get a chance to show what he can do in central midfield and Cameron looked composed on the ball and broke up Saints' attack expertly in the second half as Stoke pushed for an equalizer. On Sunday Tim Howard's Everton continue their charge back up the standings with a second win in a row over Burnley at Turf Moor. The Toffees' resurgence continues.
As for Jozy Altidore, he came on as a sub for the final 15 minutes of Sunderland's 2-0 defeat to Arsenal, while Brad Guzan and Aston Villa suffered a fifth-straight defeat at QPR on Monday. According to reports, Clint Dempsey could be on his way back to the Premier League for an offseason loan spell to join his countrymen.
Premier League Playback comes out every Monday as PST's Editor and Lead Writer takes an alternative look at all the action from the weekend. Read the full archive, here.