This is not an easy year to select the best player in Major League Soccer's regular season, and it's not for lack of nominees.
Almost every top tier team can claim a player who's put forth an elite season. Some teams have had several players playing at an alarmingly-high level, and the question is whether that should affect their chances to be named Player of the Year.
For example, Seattle has had a player at each end of the pitch that has out-performed the majority of players in the league. Chad Marshall is having one of the best years of any back in MLS history, while Obafemi Martins has been both playmaker and finisher.
[ MLS AWARDS: Top 10 goals | Rookie of the Year ]
And given enough time and research, some could make compelling cases for Clint Dempsey or Osvaldo Alonso. Los Angeles has the same problem, so-to-speak, as does New York.
Any way, let's take a spin through our nominees…
Bradley Wright-Phillips, New York – His 27 goals tied an MLS single-season record, and he really never came back down to Earth. A fantastic season that begs what his worth would be on the open market.
Obafemi Martins, Seattle – With apologies to Marshall and Dempsey, Martins made this team go. His chemistry with Dempsey was crucial, but it was his vision that made him go. Folks around Newcastle wondered what it would be like if he was "on", all the time. Now they know (And yes, I know this is MLS and not the Premier League).
Diego Valeri, Portland – It's difficult to say a player from a team that misses the playoffs should be the MVP of the league, but Valeri unleashed thunderbolts all over the field this year. If you wanted to, you could make a list of the season's Top 10 goals that don't include him, set it head-to-head against the ones that do, and see who won. It might be Diego.
Landon Donovan, Los Angeles – It'd be tempting to give the #LegenD a career achievement MVP, but you wouldn't even need the emotion to make the case. He was simply very, very good without the knowledge that he's retiring after the season. Donovan netted 10 times on just 66 shots and set up a league best 19 goals.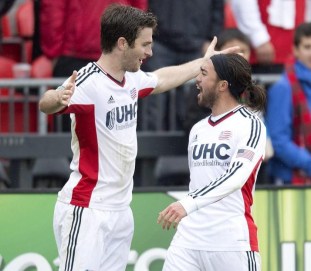 Lee Nguyen, New England – The MVLee campaign is convincing; Nguyen's 18 goals on 83 shots are a great combination and he was both the straw the stirred the Revolution's drink, while also being a great deal of the drink as well. He was fantastic this season and, for our money, is the clear runner-up for the award. And we'd understand your arguments for him being No. 1, but…
Deserving shouts but not getting a paragraph's write-up: Luis Silva (DCU), Thierry Henry (NYRB), David Ousted (VAN), Dwyer, Matt Hedges (DAL), Kyle Beckerman (RSL), Javier Morales (RSL), Marshall, Pedro Morales (VAN), Bobby Boswell (DCU), Federico Higuain (CREW), Benny Feilhaber (SKC)
Without furthier adieu…
PST's 2014 MLS Player of the Year is Robbie Keane.
Yes, the Galaxy's attack is the MLS version of Manchester United, but where would L.A. be without their Irish talisman? Gyasi Zardes and Landon Donovan were fantastic, but Keane was there all year long.
He scored 19 times and added 14 assists in 29 games, and was one of only two players (Martins 17G/13A/31gms) to appear in the league's Top Five in goals and assists. And he managed to miss 3 of 4 penalty kick attempts (which we could hold against him, but won't).
The advanced stats are on his side, too:
Keane did it early, with goals in four of his first five and 7 of his first 10 matches. He only went two games without a point once, his mid-season "swoon", and finished his campaign with five goals in his last four contests.
And then there's the most valuable argument. Anyone who watched the Galaxy's finale against Seattle and penultimate road loss to Dallas knows how his finishing was missed when not in the lineup. In fact, L.A. was 2-2-1 without Keane and 15-5-9 with him.