Two knockout round games filled with Texas-sized controversy and New York-hosted drama have set the table for a weekend full of the 2014 MLS playoffs' first legs.
And what a feast the league has prepared.
Two of the leagues hottest finishers square off to open things up on Saturday, with a traditional rivalry highlighting Sunday's offerings.
[ MORE: MLS Playoffs news and updates | MLS Awards ]
Reminder: The league is using away goals as the first tiebreaker this playoff season.
Rank 'em on form
Here are the remaining teams regular season records (WLT) since Sept. 1:
New England, 7-1-1
Columbus, 6-1-1
New York Red Bulls, 6-2-1
Seattle, 5-3-1
DC United, 3-1-4
L.A. Galaxy, 4-2-3
Real Salt Lake, 4-3-1
FC Dallas, 4-4-0
The games
Columbus Crew vs. New England Revolution, 4pm ET Saturday
So the two hottest teams in Major League Soccer will get together for an old-fashioned Northern showdown. The game not only pits goalkeepers who've made some sublime saves this season in Steve Clark and Bobby Shuttleworth, but a bevy of attacking midfield talent (cough, Lee Nguyen, cough) and veteran defenders. This one comes down to the finishers: Can Aaron Schoenfeld and company support the Crew middies more than Teal Bunbury and the New England forward crew hooks up their support.
Real Salt Lake vs. Los Angeles Galaxy, 8pm ET Saturday (NBCSN)
The key here is Robbie Keane; PST's MLS MVP (consonants!) sat out the Supporters Shield-deciding match against Seattle rather than risk aggravating a nagging injury on the Washington turf. Now will the extra rest help him, Gyasi Zardes, Landon Donovan and Juninho grab a goal or two at Rio Tinto? Chris Schuler and Kyle Beckerman will do their best to make it a living heck.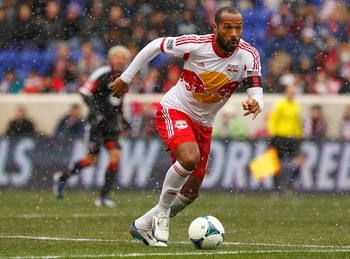 New York Red Bulls vs. DC United, 4pm ET Sunday
This one could come down to the managers. Mike Petke's late moves help lift New York to a come-from-behind win over Sporting KC on Thursday night, but will his men be able to break down PST's MLS coach of the year Ben Olsen's rested and strong DC defense. The two teams split a pair of games at the end of August/beginning of September, and DC is without Luis Silva. That could be the big difference if DC needs to pick up some crucial road goals, perhaps expediting Thierry Henry's final moments in New York (and MLS?).
FC Dallas vs. Seattle Sounders, 9pm ET Sunday
At least Dallas gets to stay home for the first leg, and that's about the only advantage they have against a momentum-carrying Sounders team that's been buoyed by a pair of impressive performances against the Galaxy. Dallas lost two of three to Seattle this season, but the only one to occur this side of World Cup was firmly in the Texans' camp: David Texeira struck twice in a 3-1 win for FC Dallas in late September.