Catch up on all of this weekend's action from Spain and Italy's top flights.
La Liga
Barcelona 0-1 Celta Vigo
Barca were shut-out at home for the first time since 2011 as they suffered their first home defeat of the season against Celta Vigo. Joaquin Larrivey gave the visitors the lead in the 55th minute as Barcelona failed to find an equalizer, hitting the woodwork four times. The loss drops Barca to fourth in the league, two points behind Real Madrid.
Atletico Madrid 4-2 Cordoba
Goals were aplenty at Vicente Calderon Stadium as Atletico moved to within one point of league-leaders Real with a comfortable home victory. Antoine Greizmann scored on both sides of the half as Mario Mandzukic and Raul Garcia also tallied for the defending La Liga champions.
Granada 0-4 Real Madrid
It only took Cristiano Ronaldo two minutes to get on the scoresheet for Real as they cruised to a 4-0 victory at Granada. That means Ronaldo has scored in 12 straight games, with 17 goals total in 10 La Liga matches. James Rodriguez added a brace for Real, including a stunning strike to add to his collection of highlight reel goals.
[ WATCH: James Rodriguez scores off volley against Granada ]
Around La Liga:
Deportivo 1-2 Getafe CF
Real Sociedad 0-1 Malaga
Athletic 1-0 Sevilla
Villareal 1-3 Valencia
Levante 2-1 Almeria
Elche 2-1 Espanyol
Tomorrow: Rayo vs. Eibar
Serie A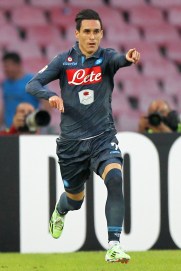 Napoli 2-0 Roma
Roma dropped from the top of the table after suffering their second loss of the season. Gonzalo Higuain opened the scoring early in the 3rd minute for Napoli as Jose Callejon added an insurance goal in the 85th. The win for Napoli brings Rafa Benitez's side to fourth in Serie A while leading the league in goals scored.
Empoli 0-2 Juventus
The league-leaders continued their hot start to the season with another clean sheet as Juve has only conceded four goals in their first ten matches. With a big Champions League clash against Olympiacos midweek, Juventus was able to rest some of their key players against an Empoli side that sits towards the bottom of the Serie A table. Andrea Pirlo scored his first goal of the season as Alvaro Morato also tallied for Juve.
Milan 0-2 Palermo
Two goals in three minutes for Palermo denied Milan the chance to jump to third on the Serie A table at the San Siro. Milan was unbeaten in their previous six matches, but failed to score against Palermo in a match that was more one-sided than the scoreline indicates. After starting the season with defensive woes, Palermo has now kept a clean sheet in consecutive matches.
Around Serie A:
Parma 2-0 Inter Milan
Genoa 4-2 Udinese
Sampdoria 3-1 Fiorentina
Torino 0-0 Atalanta
Chievo 0-0 Sassuolo
Tomorrow: Cesena vs. Verona
Tomorrow: Lazio vs. Cagliari