The Champions League has returned for another round of group stage play, with some interesting storylines gracing our midweek headlines.
With group stage play halfway complete, most groups are still there for the taking while a few look to be just about covered.
Real Madrid vs. Liverpool
Most notably, Brendan Rodgers' struggling Reds hit the road to the Spanish capital running out of time to get a result in group stage play.
Madrid torched Liverpool's porous back line for a trio of goals in a comprehensive 3-0 win in England, and unless the manager can turn things around in a hurry, this one likely could go the same way. Unfortunately for the Reds, they're in a bad spot. Tied with the other two teams in the group on three points, if they fall in Madrid they'll be guaranteed to be out of a knockout stage position with just two games to play.
Daniel Sturridge is still unlikely to play leaving the Liverpool attack still thin, with all Liverpool strikers owning just one league goal all season combined. Meanwhile, Carlo Ancelotti is a solid shout for Manager of the Year this season after being fed an entirely new bevy of attacking players and still getting them to fire on all cylinders.
Juventus vs. Olympiacos
The Italians have it all to do as they take on the surprising group A leaders at home in Turin. Juventus is in charge of the Serie A table, but they've failed to score in their last two Champions League matches and fell at Olympiacos last time out. This time, things will favor the Italians as Olympiacos is clearly a different team on the road than in the friendly confines.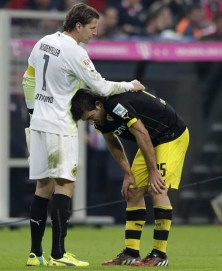 Borussia Dortmund vs. Galatasaray
The Germans have a crisis to handle in domestic play, but they are still in a solid position when it comes to European play.  Three wins out of three have them top in Group D, but it remains to be seen whether their horrific start to the Bundesliga season will affect their concentration in other competitions. Jurgen Klopp has overseen
They'll be missing German international Mats Hummels who sustained a sprained ankle in their match with Bayern Munich last weekend. Klopp will also likely be without Nuri Sahin, Marcel Schmelzer, and Jacob Blazczykowski, while Cesare Prandelli's squad is almost completely healthy.
Arsenal vs. Anderlecht
Arsenal have a chance to solidify their knockout stage position and create a clear divide in Group D when they host Anderlecht. A win would at the least keep them five points ahead of the third place side, and potentially could put them eight points clear. Jack Wilshere has been ruled out, but the team is starting to return to full fitness as Theo Walcott has made his return and could feature. Steven Defour will miss out for Anderlecht. Thankfully, Arsene Wenger won't have to worry about his zipper keeping him from focusing.
Benfica vs. Monaco
A topsy-turvey Group C will hope for a better match than the last two times these two teams faced off.  A listless 0-0 draw graced State Louis in France to give the Portuguese side its first point of the group stage, and they'll look to get back into the thick of things at home in the reverse fixture. Don't hope for too much in this one though, as Monaco have yet to concede in the group stage and have only scored one goal themselves.
Atletico Madrid vs. Malmo
The other Champions League game in Spain this matchday, Atletico have a great chance to overtake Olympiacos as the Group A leaders. Both teams will have injury boosts, with Tiago back from a hamstring problem while the Norwegians have goalkeeper Robin Olsen back after being substituted in their last league game.
Basel vs Ludogorets
The Group B underdogs will be looking to feast on a potential Liverpool slip in Madrid and leap into a knockout stage position as they face off in Switzerland. Ludogorets won the reverse fixture two weeks ago 1-0 at home, and while the Swiss are firing in the league, they will be without Ivorian midfielder Serey Die after his sending off in the last match.