Today, Brendan Rodgers is stuck defending his selected squad for Liverpool's 1-0 loss to Real Madrid on Tuesday.
Instead, he should be apologizing.
Rodgers rested winger Raheem Sterling, captain and legend Steven Gerrard, striker Mario Balotelli, expensive defender Dejan Lovren, and vice-captain Jordan Henderson. Daniel Sturridge, despite his fitness troubles of late, even made the trip, but wasn't included in the teamsheet.
With Liverpool fans having waited four years for a return to Champions League play and endured some painful stretches along the way, Rodgers' teamsheet in Madrid was a giant middle finger to all those fans. He thumbed his nose at years of work – and even his own toil and trouble – to return to the main event.
For a man who claims over and over again that his top priority is securing a return to Europe's finest tournament next season, it's mind-boggling why he'd throw it once they're there.
"We didn't rest players for Saturday," Rodgers insisted after the match. "I picked what I thought was a team that could get the result for us tonight and I think the performance showed that."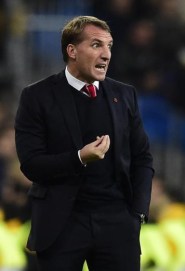 Did it though? Sure, the players "fought valiantly" or whatever he wants to claim. Lazar Markovic and Emre Can actually had themselves a pretty good game, and a few other players showed flashes of top quality.  But in the end, one number stands out: the number one.
That's how many shots on target this team mustered all match. One. They only managed four shots altogether, all in the second half, and all in a 20-minute span from halftime to the 65th minute. Real Madrid had 27, with nine on target. Real Madrid completed 641 passes – Liverpool attempted just 472. That's domination.
If they were fighting so valiantly, Rodgers wouldn't have tossed on Gerrard, Sterling, and Coutinho with 20 minutes to go, because if that doesn't scream "PANIC!" I'm not sure what does.
Rodgers went so far as to praise his team for holding Cristiano Ronaldo scoreless. That's quite the inferiority claim. "I think it's the first game since the Super Cup that Cristiano Ronaldo hasn't scored in, so it shows you how well we defended and I think our possession in the game was very good." Liverpool had 39.7% possession, if you were wondering.
The worst part is Liverpool were in a great position. Even a draw against Madrid would have done them a world of good. Tied with two other Group B clubs on three points – two clubs who were playing each other, with points for the taking – he could have set himself up well for the stretch run by staking a great claim for the group's #2 slot. Now, Rodgers can't afford a single slip against either Basel or Ludogorets if he hopes to make it to the knockout stage.
If his intention was to send a message to usual starters not performing up to standard, then maybe we'll see the same teamsheet against Chelsea this weekend? Somehow, I seriously doubt that. No, this was a cheap ploy to rest players instead of trying to compete with the best of the best.
Chelsea manager Jose Mourinho, when asked about Brendan's teamsheet, put it best (as he always seems to do): "If I don't feel I can win, maybe I don't go." Brendan probably just shouldn't have made the trip in the first place, but then I guess it would have been too obviously what he was doing. While a return to the Champions League is nice and brings plenty of cash along with it, a club like Liverpool should be there to compete, not just to show up, and if that's the goal, maybe Rodgers should rethink his priorities as manager of a top Premier League club.