A former Sheffield United player is back training with the club following his release from prison after serving 2 1/2 years for rape.
The Professional Footballers Association requested that the club allow Ched Evans, 25, to train with the club, and it has been accepted by Sheffield.
The high-profile case has been a hot-button issue, as Evans was convicted despite claims that he had consensual sex with his teenage victim. The prosecutors claimed that she was too drunk to consent. His co-defendant, former Manchester City teammate Clayton McDonald, was acquitted of all rape charges.
[ PREMIER LEAGUE: Latest standings | Schedule ]
Evans and his family launched a web site proclaiming his innocence, and the player recently sent out a video acknowledging a mistake and asking to be allowed back onto a team to resume his career, "if that is possible."
The club said the decision was made to allow Evans to regain a level of fitness that enabled him to find employment in his chosen trade.

Sheffield United added that it had considered the views of staff, official bodies, the union, club supporters and the public as well as statements from the PFA and Evans.

Deputy Prime Minister Nick Clegg said last month that United should "think really long and hard" before deciding whether to allow Evans back.

"Players these days, they get paid a lot of money, they are public figures and you can't ignore that," said Clegg, who represents a Sheffield district in the House of Commons.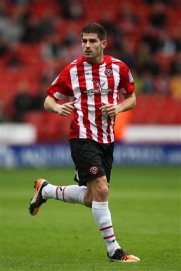 Obviously, this is an incredibly sensitive subject. Evans was convicted of rape. He still maintains his innocence, and as pointed out, for some reason his co-defendant was let off.
His web site is a very vocal and detailed cry for innocence, and he has been jailed. That said, there is nothing excusable about sexual assault. He was convicted.
But over 150,000 people signed a petition asking he not be allowed to return to Sheffield United, which would face severe backlash and scrutiny for signing him.
On the soccer side of things, Evans was a good player for the Blades. He was capped 13 times for Wales, scoring once. Evans scored 35 times in the season before his incarceration.