LONDON — Geoff Cameron is back fit and ready to go for the USA's two friendlies against Colombia and the Republic of Ireland over the next week.
Cameron, 29, has recently returned to action for Premier League side Stoke City after six weeks out with hernia issues that required surgery. After strong performances in both central defense and central midfield during the World Cup this summer, Cameron is keen to kick on for the final two games of the USA's season this week.
[ RELATED: News, notes from US in London ]
Asked by local media how the USA can keep progressing after a World Cup performance which drew plenty of praise from across the globe, especially the UK, here's what Cameron had to say.
"We have to take baby steps. It's a long process over four years for every World Cup but there's the Gold Cup and Copa America so there's busy summer's ahead," Cameron said. "We are trying to take the national team to the next level. We can't go gun-ho. There are baby steps as to what you need to improve as a team with new guys coming in and younger faces, I think there is a lot of potential for our team."
[ RELATED: Guzan on Villa, leading US 'keepers ] 
The perennial questioned asked by the British media to American players then arrived, as Cameron was asked how 'big' soccer is in America and if he has noticed a difference in support numbers, level of play and general interest levels since the 2014 World Cup.
"When I first started my career in the MLS and coming back for qualifiers and whatnot, the attendance from fans was absolutely amazing," Cameron said. "Soccer has become huge. It is more mainstream now and eventually I think it will take over the big sports in America. If you look at it, it has to go from generation to generation. It's a time thing. I have children, they grow up in a soccer environment then that's what these kids learn. Now with the diversity we have in the U.S., the different cultures and different ethnicity they all come from soccer backgrounds and grew up in that environment. I think that is the reason why soccer is becoming huge."
Cameron also admitted that the head coach of the U.S., Jurgen Klinsmann, is a big reason why the program is moving forward.
"He has done it all. He knows what it takes to win and he's a guy that you want to play for because he has respect and he knows what you are going through as a player. Mentally, physically. Everything," Cameron added. "He knows what to do to push you and he is always there for advice. For me he has been fantastic and you've seen what we have done over the last few years. I think he has taken the national team to the next level."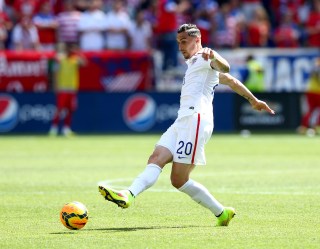 [ RELATED: Besler talks SKC, enjoying life in London ]
Cameron has returned to action over the past three weeks for the Potters after missing out through injury from August until early October. The Bostonian was heavily linked with a move away from the Britannia Stadium during the January transfer window but Cameron has remained with the Potters and spoke about his 'dream' of playing in the Premier League.
"It's not a bad living, you get to wake up and play football everyday," Cameron smiled. "Playing in the Premier League has been a goal of mine since I was a young kid. Playing at the Emirates and against the likes of Manchester United and Manchester City, you are playing against those big teams. Those are the games you want to play in."
Following Stoke's impressive win at Tottenham Hotspur, Mark Hughes' side sit in ninth place on 15 points. That's just three points off the top four and Cameron believes his team can push on further.
"It was a big 2-1 victory [against Tottenham]. We definitely needed that," Cameron said. "We were disappointed from last weekend to give up a 2-0 lead against West Ham, not getting three points when we had an opportunity to climb the table. But going to Tottenham, it's always a tough place to play. It was a great result. In the next couple of months we have a few tough games ahead of us, they are all  pretty tough, but we have a tough run. You just try and get as many points as you can."
ProSoccerTalk will be with the USA in London all week ahead of their game against Colombia at Craven Cottage on Friday. Stay in touch with the latest news, here.