The 2018 World Cup cycle, which began the second Jurgen Klinsmann's US national team were bounced by Belgium in the Round of 16 last July, currently sits in the precarious "show me what you got" phase where anyone and everyone holding an American passport has at least a slim hope of pulling on the Red, White and Blue in Russia just 44 short months from now.
Otherwise meaningless friendlies at this time offer up-and-coming players the chance to force their way into Klinsmann's future plans, as the former German international noted himself on Thursday, while someone like USMNT veteran and captain-for-the-week Jozy Altidore, who rarely get games for his club team, Sunderland, must continue to show Klinsmann he's sharp and brings more to the table than the — granted, less than moving — competition at forward.
Below are the four players with the most to gain from a strong showing in this week's training sessions and upcoming friendlies against Colombia (Friday, 2:45 pm ET) and Ireland (Tuesday, 2:30 pm ET).
[ RELATED: VIDEO: USMNT call-up Miguel Ibarra scores ridiculous, sky-high chip ]
Jozy Altidore, forward, Sunderland (74 USMNT caps, 24 USMNT goals) — It seems as though no USMNT performance from Altidore — still only 25, if you can believe it — no matter how amazing, will be enough to force his way back into Gus Poyet's first-team plans at Sunderland. And let's face it: Chris Wondolowski, Bobby Wood, Jordan Morris, and even others not currently in camp, aren't going to unseat Altidore as the USMNT's starting center forward; but improving his prospects for a positive club team resolution in January has to be priority No. 1 for Altidore.
Lee Nguyen, midfielder, New England Revolution (3, 0) — It's been over seven years — 2,688 days, to be exact — since Nguyen lasted suited up for the Yanks. So you'll have to forgive him if he seems to be pressing in what will surely be limited minutes against Colombia before returning early to Boston for, oh yeah, the Eastern Conference Championship next weekend. This call-up couldn't have come at a much worse time for Nguyen, who now has possibly the most important week of his pro career sandwiched by the most important month of his career. January camp and friendlies will be Nguyen's time to shine; this week is all about impressing Klinsmann and, more than anything, avoiding injury.
[ RELATED: Klinsmann, veterans usher in new wave of talent to end 2014 ]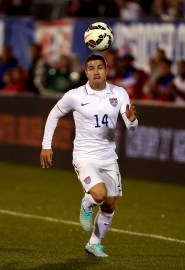 Greg Garza (right), defender, Club Tijuana (3, 0) — Garza impressed Klinsmann and pundits alike with consecutive strong showings last month against Ecuador and Honduras. The starting left back spot is his to lose, just as it was the last decade for a number of Americans who, you guessed it, all lost it. Here's what Garza has going for him: He's a natural left back. DaMarcus Beasley isn't that, nor is Timmy Chandler, Geoff Cameron, Michael Parkhurst or, going way, way back, Carlos Bocanegra, who held down the spot out of necessity for a while.
DeAndre Yedlin, defender, Seattle Sounders/Tottenham Hotspur (9, 0) — With any luck, the USMNT's starting full back duo for the next 10 — Garza and Yedlin — are in camp and will begin a very successful future together this week. Yedlin's roster spot going forward isn't at all in question, but a strong showing at right back — if that is to be his ultimate USMNT position, after Klinsmann employed as a wide midfielder recently — would surely impress Mauricio Pochettino, Yedlin's new manager once January rolls around. There's no use in Yedlin going to England if he can't get games there.
Follow @AndyEdMLS