LONDON — Times, they are a changin'.
Down by the River Thames in London the USA will host No.3-ranked Colombia on Friday as a new era is being ushered in by the U.S. national teams' veterans and head coach Jurgen Klinsmann.
[ PREVIEW: USA host Colombia at Fulham  ]
In a press conference at Fulham's historic Craven Cottage stadium on Thursday, Klinsmann emphasized the need for his veterans to stand up and help integrate promising youngsters such as Bobby Wood, Julian Green, DeAndre Yedlin and many others.
The time is now.
"It is very important, the role that the veterans play. In many clubs nowadays you don't see that anymore. You don't see that leadership from more experienced players helping the younger guys to understand what it actually takes to become a real professional," Klinsmann said when asked by ProSoccerTalk. "I was very lucky when I was coming up through the ranks, I had players looking after me who would give me a kick in my backside if I started flying too high. I follow that closely with many club situations where I don't see that happening anymore."
[ RELATED: Cameron on USA's progress ]
Klinsmann revealed he mixed up his squad on purpose for this trip, and during practice all week you could hear the older guys dishing out copious amounts of praise towards the younger players. "Well done Julian!" "Keep going Bobby!" "Attaboy Brooksy!"
"We purposefully made that mixture now for this group," Klinsmann explained. "I gave them the message, whether it is Brad [Guzan], Kyle Beckerman, Jermaine Jones, Nick Rimando. I told them you have to talk to [the young players] communicate with them. Leave your cellphones off the table. Give them ideas what to expect and how their growth should happen."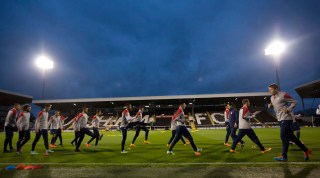 The USA's coach is looking forward to leading his team out at a packed stadium on Friday in West London — the game is expected to break attendance records for an international at the Cottage — while also giving plenty of youngsters the chance to shine.
[ RELATED: Ibarra eager to learn ]
Klinsmann has called up the likes of Rubio Rubin, Miguel Ibarra, Alfredo Morales, Stanford University's Jordan Morris and Bobby Wood in the past two to three camps but used them sparingly. This final batch of international matches in 2014 could give us a glimpse of the future as the youngsters step up to the plate.
"We don't want them to waste time. We want them to break in quickly if they can," Klinsmann added. "If it takes longer, then so be it. We want them to have that open dialogue because they have all the power in the world to put them in line, if needed."
[ RELATED: Guzan leading US goalkeeping core ]
In Klinsmann's latest squad 12 players have less than 10 caps, while the same number are under the age of 24. The youth element is strong and four-time World Cup veteran DaMarcus Beasley, now 32, is playing a key part as a leader on this squad.
"These type of games are where you can challenge these young kids and see whether they can sink or swim," Beasley said. "So far they have got a passing grade but it is a long four years until another World Cup. These games against quality opponents like Colombia on Friday and Ireland next week is preparation for them to prolong their international career."
Beasley's international career began in 2001 and he's still going. Four World Cup squads and 120 caps later, the Indiana native is keen to do whatever he can to help out. Just like other U.S. players helped him out when he first arrived on the scene.
"One of the guys played here," Beasley smiled, looking up to the old iron rafters at Craven Cottage. "Brian McBride. He's a guy that was always full of information and willing to help the young kids. Claudio Reyna. Eddie Pope, when I was younger they were always looking to bring a young guy under their wing and help them in any way. On and off the field. We definitely want to do the same thing as we pass the torch going into 2016, 2017… maybe some of the older guys such as myself won't be here. So we want to make sure the U.S. national team is in good hands."
[ RELATED: Besler on SKC, enjoying life in London ]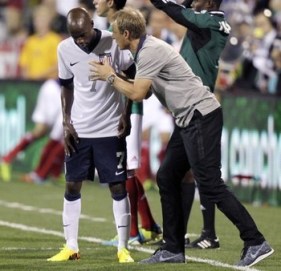 Klinsmann agrees with Beasely, as a strong core of leaders has always defined the U.S. national team across generations and helped his team advance to the knockout stages at the World Cup this summer.
"I think that is a characteristic of the U.S. team for a long time. Long before I came on board," Klinsmann said. "The experienced players always helped the younger ones and there's always a special chemistry and a good spirit. That spirit was part of our path getting out of the 'Group of Death' this summer at the World Cup. Their role is vital."
Goalkeeper Brad Guzan is settling into the leadership role, as he works alongside young stoppers such as Sean Johnson and Bill Hamid. With Tim Howard out of the picture until next September, Guzan is happy with the role Klinsmann is asking him to take on and believes a strong bond is developing among the USA's current crop of players.
"The group is slowly coming together," Guzan said. "That's nice to see because there are some new faces and a few guys now that have been in one or two camps, where you would think they have been in five or ten camps. It is an easy group to come in to and the young guys train really well. From that aspect the week has gone well. And, more importantly, off the field the group is really coming together."
Can this group of talented youngsters headlined by Yedlin and Green oust some veterans, and others who didn't make this trip, off the roster? These two friendlies over the next week will have a big say if they're ready to do just that.
"They are a hungry group, they are exciting and they want to do well, to prove themselves and prove they belong here, which they have done so far." Beasley said. "We are excited about the future of this team."
Veterans and youngsters intertwined, Klinsmann's experiment of meshing age groups will be under the spotlight at Craven Cottage on Friday night, then again in Dublin next Tuesday. After that match we will have a good idea if times are a changin' for good for the U.S. national team.