US national team head coach Jurgen Klinsmann has a pair of friendlies this week against Colombia (Friday, 2:45 pm ET) and Ireland (Tuesday, 2:30 pm ET) that will afford him the chance to experiment with and assess a number of new faces among the USMNT ranks.
How might he set up his team at Craven Cottage in the first of those exhibitions? Without being overly tactical and gameplan-ny — it's just a friendly, whether or not it's against FIFA's No. 3-ranked team in the world — I'll give my best guess at Klinsmann's starting 11.
[ RELATED: Klinsmann's 25-man roster for Colombia, Ireland friendlies ]
Goalkeeper and Defenders —Brad Guzan, Fabian Johnson, Jermaine Jones, Matt Besler, Greg Garza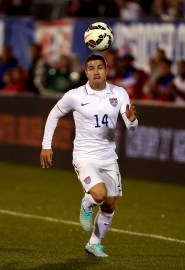 Besler and Geoff Cameron is the most natural partnership in camp and, you know, they're both actually defenders, but Jurgen gonna Jurgen, right? So instead we'll probably see Jones alongside Besler — who by the way, needs a couple months of serious rest and recovery in the worst way — in the center of defense.
It won't be Jones's first run-out at center back, though, as he struggle through 90 minutes last month in a friendly against Honduras. Why Klinsmann feels the need to tinker with a 33-year-old in a new position, and take away what would be valuable minutes from a young player like John Brooks, I have no idea.
Nobody across the back four has more to gain this camp than Garza. Just three caps into his USMNT career, he's the undisputed left back of the future, and if he makes it so, the present as well. A very strong defender behind Julian Green, who for all he does well going forward, doesn't offer much value to other causes just yet.
Another player who needs serious minutes at center back — or defensive midfield, even — is Geoff Cameron, who's been played in a number of different positions so far this season for Stoke City, in order to stay in the USMNT picture going forward.
[ READ: Four USMNTers with most to gain in training, friendlies this week ]
Midfielders — Kyle Beckerman, Mix Diskerud, DeAndre Yedlin, Alejandro Bedoya, Julian Green
For better or for worse, we're going to find out whether or not Mix Diskerud can play as part of a double pivot. In Klinsmann's defense, it's a question that needs answering and the time to figure it out is now. If Diskerud shows he can do a job deeper in the midfield, it boosts his chances at finally earning regular playing time with the USMNT increases exponentially, as he's unlikely to unseat captain Clint Dempsey underneath the forward anytime soon.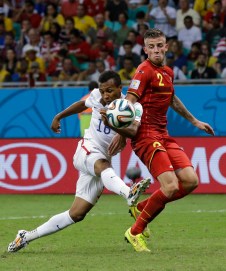 Between now and next summer's Gold Cup, it's time for Green to start converting some of that amazing potential that earned him a World Cup roster spot at 19 years old, into genuinely dazzling performances for both club and country. With the retirement of Landon Donovan, there's no one ahead of him on the depth chart, so the minutes are his to make the most of.
In the midfield might be DeAndre Yedlin's ultimate international position — at least, it's his best spot while he nails down the finer points of defending — and Fabian Johnson was arguably the USMNT's best player leading up to and during the World Cup, so he probably continues to see minutes in the midfield.
Lee Nguyen is almost certainly the first midfielder off the bench, likely to get 15 or 20 minutes at the end.
[ RELATED: An MLS end-of-season (mostly) uncapped USMNT starting 11 ]
Forward — Jozy Altidore
Klinsmann's deepest apologies to any other center forwards in this camp, but Altidore not only massively exceeds their current abilities, but he's also 100 percent fresh after logging just 81 minutes in six appearances to start the season for Sunderland. The first 75 or 80 minutes are his, and the rest of you are fighting over the scraps after that.