Another slate of European qualifiers are upon us, with a pair of powers looking to sort out a sloppy start to their campaigns in Portugal and Germany.
Meanwhile, Serbia looks to move past their docked-points win, while Scotland and Ireland will mix it up in a British Isles rivalry.
[ USMNT: Klinsmann, USMNT usher in youth movement to end 2014 ]
Let's take a look at what's on tap today.
GROUP I
Portugal vs. Armenia, 245 pm ET
Cristiano Ronaldo and the hosts were gifted third place in the group when Serbia lost three points for their abandoned home match against Albania despite being given a 3-0 win. That's what happens when drones are flown, flags destroyed and pushes abound. Now the Portuguese could go atop Group I with a win and help from the Serbia/Denmark match.
Serbia vs. Denmark, 245 pm ET
The White Eagles first match since the aforementioned abandonment is a critical one against the visiting group leaders. Will there be any lingering issues with the first-place Danes in town?
GROUP D
Germany vs. Gibraltar, 245 pm ET
You can imagine Gibraltar camp:
"Well, let's hope they take us lightly and experiment with their formation."
#Löw: "We won't set up with too many defensive players. We have to try and make it so that Gibraltar aren't able to cope." #GERGIB #DFBTeam

— Germany (@DFB_Team_EN) November 13, 2014
"Dang."
Scotland vs. Ireland, 245 pm ET
Robbie Keane wasn't missing this one for the world (or at least for MLS playoff preparation). The former Celtic player gets to represent Ireland in his former home stadium.
"Coming from London, getting off that plane and coming to Celtic Park, with 5,000 people there is one of the best feelings you could ever get as a player. Just walking out at Celtic Park and putting on that green and white jersey, from start to finish for me the experience was great, I enjoyed every minute of it."
With Germany playing Gibraltar, the stakes for Scotland/Ireland are much higher than your typical border battle. A loss could see the loser out of the Top Two.
Georgia vs. Poland, Noon ET
Is Poland the team that beat Germany or the side that conceded twice to draw Scotland at home? Hard to tell, but they most certainly are the team with Robert Lewandowski, which will likely be enough to take care of minnows Georgia.
GROUP F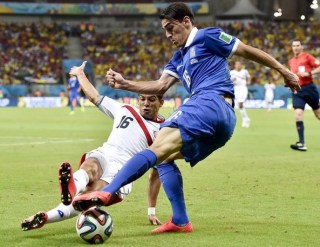 Greece vs. Faroe Islands, 245 pm ET
The Greeks hope to restore order to their hopes, which are off to a gloomy start after picking up just a single point through three games (Home losses to Northern Ireland and Romania and a road draw against Finland). Meanwhile, Landsliðið would sure like to get their 0 off the board.

Romania vs. Northern Ireland, 245 pm ET
The battle for the top of Group F finds the visitors hoping to put a stranglehold on the group. Northern Ireland's 9 points are two more than Romania and five up on the field.
Hungary vs. Finland, 245 pm ET
The winner would find themselves second in Group F at-worst, while the loser could see itself second from bottom if Greece tops Faroe Islands. Big swing game when it comes to Euro 2016 hopes.