There are nine games on the docket Saturday as the qualification for Euro 2016 rolls onward, with five matches starting at Noon ET and another four beginning at 245pm ET.
Friday's day of qualifying cost a man his job, as the Faroe Islands' 1-0 upset of Greece has earned Claudio Ranieri the sack.
[ RELATED: Balotelli, Neuer injured | De Gea, too ]
What could Saturday have in store for us?
Group C
Luxembourg vs. Ukraine, Noon ET
Perhaps the snoozer of the day, not much will be expected other than a cool Ukraine road win.
Macedonia vs. Slovakia, 245pm ET
Macedonia coach Boshko Durovski on the match, "We lost against Ukraine but we played a good game there and that boosted our confidence. Now we have to do even better and take full advantage of any chances we create. One goal won't be enough against Slovakia."
Spain vs. Belarus, 245pm ET
There will be no De Gea for Spain, but will it matter? Belarus lost at home by multiple goals against Slovakia and Ukraine in qualifying, managing just a 1-1 draw against Luxembourg (where Spain won 4-0).
Group E
England vs. Slovenia, Noon ET
Someone's excited…
What a feeling knowing today could be the best day of my life, game day against Slovenia, ill truly enjoy every moment #GodIsGood#England

— Saido Berahino (@SBerahino) November 15, 2014
Wayne Rooney will earn cap No. 100 for England.
San Marino vs. Estonia, Noon ET
Confidence alert, courtesy of Estonia coach Magnus Pehrsson, "The match will be totally different compared to other matches we have had this autumn. We are going to dominate on the pitch and create many chances to score."
And this time, his defender won't have to leave right away for military service.
Switzerland vs. Lithuania, 245pm ET
Lithuania captain Tadas Kikanskas, "We come here full of respect for Switzerland, but we are not afraid. We will be fighting and trying to show our best qualities according to our game plan. It's a very important match for both sides."
Group G
Austria vs. Russia, Noon ET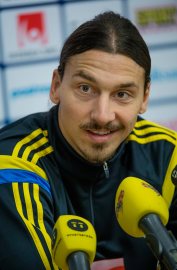 Russia boss Fabio Capello on Austria's counter abilities:
"They are a very good team. They have nine men behind the ball almost all of the time but switch to attack very fast. Austria created many chances in the recent matches I saw. We have trained well the week before the match. The players have been totally committed and I am confident we will play well.
Moldova vs. Liechtenstein, Noon ET
The end is near for one of these sides, so figure both teams to go all out for a relatively-historic three points in Euro qualifying. Liechtenstein has just a single goal scored in 6 matches this season. Moldova have five in 11.
Montenegro vs. Sweden, 245pm ET
Zlatan's going, and that's bad news for the hosts.
"He probably is still short of 100%, but he feels good enough to want to start, and we want it too," said assistant Marcus Allbäck.