The 2-1 loss to Colombia on Friday was understandable.
The 4-1 loss to Ireland on Tuesday was unbearable.
And the quandary in which Jurgen Klinsmann's United States men's national team finds itself is unfortunately quite predictable.
[ IRELAND-USMNT: Player ratings | Match recap ]
The USMNT again left goalkeepers out to dry, and its supporters learned what it's like when a superhero isn't bailing them out. Brad Guzan and Bill Hamid were largely fine between the sticks, but neither pulled a Tim Howard.
Or a Kasey Keller. Or a Brad Friedel. The fact is that while the US has produced a stunning amount of quality goalkeepers, the defense has rarely rose to meet that level. The US has kept just four clean sheets this season, only two since April, and one was against Azerbaijan.
Consider:
– Matt Besler (right), who looked so impressive at the World Cup, brought his second-half Sporting KC form to Ireland and was way out of position when David McGoldrick beat him with a through ball for Anthony Pilkington's opener.
– Fabian Johnson had been Mr. Versatility for Klinsmann, but looked out of sorts defending on Tuesday. He was part of some good dribbling and combination play moving forward, but poor defensive moments included the giveaway that led to Ireland's second goal.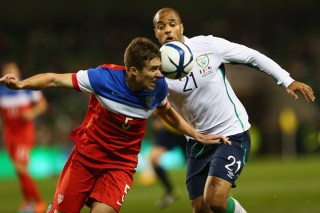 – Geoff Cameron had a few hard luck plays, including the ball that deflected off the Bostonian to give Ireland a 3-1 lead, and Klinsmann would benefit from either keeping him outside or playing him at holding mid.
– Timmy Chandler is a feast or famine player for the States. He was very, very hungry on Tuesday.
– Jermaine Jones, a career midfielder, has been playing in the center of the defense for his past few appearances before being sent home for the MLS playoffs.
– Greg Garza has looked pretty good and is likely the future of the left back position, but was roasted by Shane Long on the rush that led to Ireland's third goal.
[ MORE: Mexico shocked by Belarus ]
And, again, it's nothing new. Carlos Bocanegra worked his way back into the side after being left out for a while because the States had few options (and perhaps he shouldn't have been left out in the first place). Try "Player X" at outside back was the cry even leading up to the World Cup, and there still has even been a spot for Oguchi Onyewu at times despite his club struggles the past few years.
The US needs answers in the back. While both Ireland and the US were playing second-choice players all over the park, the alternatives aren't there to fall back on. John Anthony Brooks is still on-again, off-again for club and country, DaMarcus Beasley is strong but aging and Omar Gonzalez still needs to find consistency. Same goes for Michael Orozco. DeAndre Yedlin is better as a winger, like Fabian Johnson.
You can see why Clarence Goodson was ticked off to miss the roster for World Cup, but so were a load of other guys. The States have used 26 players in the back this year alone. Twenty-six. But that's quantity, not quality, and fans are starting to look ahead and hope several of Garza, Shane O'Neill, Erik Palmer-Brown, Dillon Serna, Matt Miazga and Cameron Carter-Vickers can become the fixtures the side used to have in Bocanegra and Steve Cherundolo (even Eddie Pope!).