It comes as little surprise that when Wojciech Szczesny plays FIFA 15, he plays as Arsenal. It's the goalkeeper's club after all.
And what is the Gunners No. 1 netminder willing to give to make Arsenal better? Himself.
While a Polish film crew was filming a story on the goalkeeper, they noticed a blurb on his TV screen that said, "Fans pleased for Ospina." Naturally, they made a quip about Szczesny's No. 2 at Arsenal, and the keeper responded that he had just sold himself.
[ FIFA: International friendly roundup ]
Yep. Szczesny sold himself to Manchester United for about $29 million so Arsenal could buy a defensive midfielder. And in showing the apple doesn't fall from the manager's tree, Szczesny took the money and promptly signed a striker: Zlatan Ibrahimovic.
'In other words, I just sold Szczesny,' the Poland international said. '(I sold him to) Manchester United, following in Tomasz Kuszczak's footsteps.'

'They offered me £18.5m. I thought "I'm going to buy a solid defensive midfielder with that."'

But Szczesny then reveals he didn't invest the funds raised by his own sale to strengthen the solidity of the Arsenal midfield.

'Look, Arsenal's new hero. Look who I bought,' he added. 'Ibrahimovic! I guess it was worth replacing Szczesny with Ibrahimovic.'
Also, CSKA Moscow forward Seydou Doumbia is apparently headed for White Hart Lane, while Karim Benzema is soon-to-be a Manchester City striker.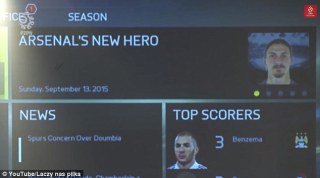 Only in Wojciech's World. Party Time. Excellent.